Creating Market Insight: How Firms Create Value from Market Understanding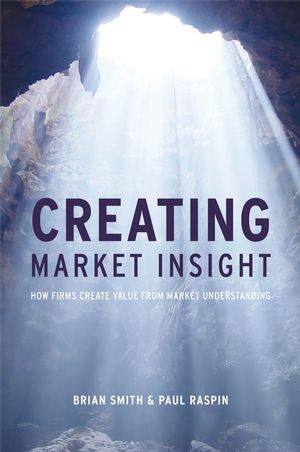 Creating Market Insight: How Firms Create Value from Market Understanding
ISBN: 978-1-119-99512-8
Jan 2011
332 pages
Description
"Brian Smith and Paul Raspin demonstrate a thorough and pragmatic approach to creating and applying sound market insight.  Using numerous practical examples, learning points and provocative takeaways, they build on established strategic marketing principles to give you actionable knowledge you can apply your business to create lasting market advantage."

Beverley Dipper, Market Insight Manager, Microsoft UK Ltd

"I have no hesitation in saying buy this book. It will find a front and centre position in your bookshelf, with plenty of post-its marking pages that you will return to again and again."

Mark Irvine, Strategy Manager, De Beers Diamond Trading Company

"A readable and well-founded description of how to generate actionable customer insight and follow it through with passionate and consistent execution"

Dag Larsson Global Brand Insight Director, AstraZeneca

Creating Market Insight addresses the key strategic issue facing any company: How do we make sense of our market and find those precious nuggets of knowledge that lead to real competitive advantage?

Creating Market Insight:
Explains how firms tailor their market scanning behaviour to work well in the special conditions of their market
Describes the process through which data is translated first into information, and then knowledge
Differentiates routine market knowledge from true insight and details how firms turn insight into value
Provides a detailed, step-by-step process that enables the reader to emulate the success of insightful firms
Creating Market Insight is written for managers who need to need to create value in the real world.
Preface.
Acknowledgements.
Chapter 1. Success, Strategy and Understanding.
What is success?
Success comes from strong strategy.
What does a strong marketing strategy look like?
What is this 'market' into which we're trying to gain insight?
The importance of market understanding.
Chapter 2. The difficulty of gaining insight.
Market complexity is making it harder to create market insight.
Market turbulence is making it harder to create market insight.
The frequency of failure.
The failure of data analytics.
Chapter 3. How Well Do You Understand Your Business Environment?
The importance of self awareness.
Test your understanding.
Scanning mechanism.
Chapter 4. What Does Market Insight Look Like?
When is an insight not an insight?
A taxonomy of market insight.
The end in mind.
Chapter 5. What Do Real Managers Do to Understand the Environment?
Scanning is generally ad hoc, informal and unsystematic.
Scanning is embedded and hard to manage.
Scanning is typically under-resourced, unmeasured and unrewarded.
There are four major behavioural clusters of business environment scanning.
Chapter 6. Understanding and Assessing the Complexity and Turbulence of a market.
What is a market?
Understanding market complexity.
A process for evaluating market complexity.
Understanding and evaluating market turbulence.
Combining the assessments of market complexity and market turbulence.
Chapter 7. What is the best way to understand the business environment?
Strengths and weaknesses of Analysts.
Strengths and weaknesses of Categorists.
Strengths and weaknesses of Monitors.
Strengths and weaknesses of Viewers.
The best way depends on the market.
Chapter 8. Putting it together - how firms create insight.
Developing scanning capability to make sense of the business environment.
From information to insight.
Chapter 9. From Insight to Value.
Starting point: what market insight do we have?
What does our market insight imply?
Does it make sense to act on our insight?
How can we ensure that our market insight is acted upon?
The causes of non-implementation.
Resolving inadvertent non-implementation.
References.
Index of figures.
Index of Tables.
Index.