Creating Prehistory: Druids, Ley Hunters and Archaeologists in Pre-War Britain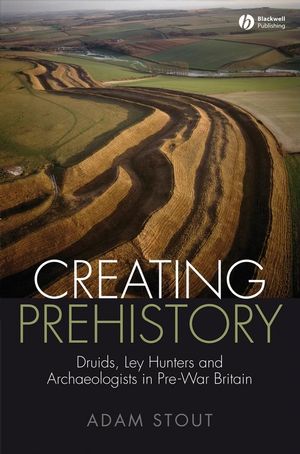 Creating Prehistory: Druids, Ley Hunters and Archaeologists in Pre-War Britain
ISBN: 978-1-444-30292-9 April 2009 Wiley-Blackwell 336 Pages
Description
Creating Prehistory deals even-handedly and sympathetically with the creation of several different sorts of prehistory during the volatile period between the two World Wars.
Investigates the origins of professional archaeology in Britain during the inter-war period
Brings to life many fascinating and controversial personalities and their creeds, including the archaeologists O. G. S. Crawford, Mortimer Wheeler and Gordon Childe; Grafton Elliot Smith and W. H. R. Rivers (of 'Regeneration' fame); Alfred Watkins and The Old Straight Track; and the thunderous George Watson Macgregor Reid, who brought the Druids back to Stonehenge
Examines the production of archaeological knowledge as a social process, and the relationship between personalities, institutions, ideology, and power
Addresses the ongoing debates of the significance of sites such as Stonehenge, Avebury, and Maiden Castle
List of Illustrations.
Acknowledgements.
Introduction: Power and the Past.
Part I: Disciplining the Past:.
1. Manufacturing The Past: The Victorian Background.
2. Establishing the Discipline.
3. Containing the Amateurs.
Part II: Contesting Utopia:.
4. Making Progress.
5. The Politics of Socialism.
6. The Diffusion Heresy: Nurture and the Primitive.
7. Establishing Diffusion.
8. A Clash of Narratives: Diffusion and the Archaeologists.
Part III: The Most Ancient Faith:.
9. The Esoteric Revival.
10. The Universal Bond.
11. Stonehenge: A Mecca of Celtic Idealism.
Part IV: Order and Civilization:.
12. The Aesthetics of Order.
13. The Old Straight Track.
14. The Straight Track Postal Club.
15. Straight Track to Beyond.
16. Visions of Civilization.
Conclusion: Archaeology and Social Transformation.
Notes.
Bibliography.
Index
"Most refreshing, and the great value of this book, is the way it looks beyond the traditional mainstream of archaeological endeavour to evaluate the contributions of Druids, ley hunters, and what from the early 1960s onwards Glyn Daniel colourfully and cruelly dismissed as the "lunatic fringe" (Daniel 1962: 1 66)."  (Time and Mind, 1 July 2012)
"The volume will be sure to engender discussion in the UK, but will be of more peripheral utility to Americanist students of the history of science." (Choice Reviews, June 2009)
"By respecting themes typically dismissed by archaeologists, Stout has created an important new history of the emergence of modern British archaeology. His enthusiasm and wisdom, his considerable new research and his engaging style make this both entertaining and convincing." (Landscapes, Autumn 2008)
"A lively and thoroughly engaging read which grabs the reader's attention from the start ... .Stout's excellent work is, of course, more than just a set of entertaining anecdotes; it is informative, illuminating and important … .An essential read." (The Prehistoric Society, March 2009)
"Creating Prehistory is radical and passionate, welcome things in a world of academic research that is itself increasingly professionalised ... The story that Stout tells so well is far from irrelevant for archaeology. Not only does it shed light on the exclusions of the discipline and how they have come to exist, it also shows in compellingly human detail that the study of prehistory is never only, never really about the distant past at all." (British Archaeology, January February 2009)
"An excellent new book … .[Stout] reminds us how much the pioneer lay hunters were also strongly involved in the growing outdoor movement of the pre-war years." (Cambrian News, January 2009)
"A fascinating account of archaeology in the first half of the 20th Century." Western Daily Press"It is a complex story and Stout tells it well … He is good at linking apparently disparate phenomena." (Morning Star)


Investigates the origins of professional archaeology in Britain during the inter-war period

Brings to life many fascinating and controversial personalities and their creeds, including the archaeologists O. G. S. Crawford, Mortimer Wheeler and Gordon Childe; Grafton Elliot Smith and W. H. R. Rivers (of 'Regeneration' fame); Alfred Watkins and The Old Straight Track; and the thunderous George Watson Macgregor Reid, who brought the Druids back to Stonehenge

Examines the production of archaeological knowledge as a social process, and the relationship between personalities, institutions, ideology, and power

Addresses the ongoing debates of the significance of sites such as Stonehenge, Avebury, and Maiden Castle