Creating Value Through Corporate Restructuring: Case Studies in Bankruptcies, Buyouts, and Breakups, 2nd Edition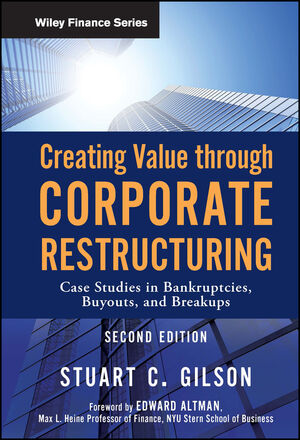 Creating Value Through Corporate Restructuring: Case Studies in Bankruptcies, Buyouts, and Breakups, 2nd Edition
ISBN: 978-0-470-50352-2
Apr 2010
848 pages
Description
An updated look at how corporate restructuring really works
Stuart Gilson is one of the leading corporate restructuring experts in the United States, teaching thousands of students and consulting with numerous companies. Now, in the second edition of this bestselling book, Gilson returns to present new insight into corporate restructuring.
Through real-world case studies that involve some of the most prominent restructurings of the last ten years, and highlighting the increased role of hedge funds in distressed investing, you'll develop a better sense of the restructuring process and how it can truly create value. In addition to "classic" buyout and structuring case studies, this second edition includes coverage of Delphi, General Motors, the Finova Group and Warren Buffett, Kmart and Sears, Adelphia Communications, Seagate Technology, Dupont-Conoco, and even the Eurotunnel debt restructuring.
Covers corporate bankruptcy reorganization, debt workouts, "vulture" investing, equity spin-offs, asset divestitures, and much more
Addresses the effect of employee layoffs and corporate downsizing
Examines how companies allocate value and when a corporation should "pull the trigger"
From hedge funds to financial fraud to subprime busts, this second edition offers a rare look at some of the most innovative and controversial restructurings ever.
Foreword.
Introduction.
PART ONE Restructuring Debt and Liabilities.
CHAPTER 1 Investing in Distressed Situations: Strategies, Opportunities, and Risks.
CHAPTER 2 Note on the Bankruptcy Abuse Prevention and Consumer Protection Act of 2005 (BAPCPA).
CHAPTER 3 Kmart and ESL Investments (A).
CHAPTER 4 Kmart and ESL Investments (B): The Sears Merger.
CHAPTER 5 National Convenience Stores Incorporated.
CHAPTER 6 Continental Airlines—1992.
CHAPTER 7 Flagstar Companies, Inc.
CHAPTER 8 The Finova Group, Inc.
CHAPTER 9 Arch Wireless, Inc.
CHAPTER 10 Adelphia Communications Corp's Bankruptcy.
CHAPTER 11 Buenos Aires Embotelladora y-region S.A. (BAESA): A South American Restructuring.
CHAPTER 12 Alphatec Electronics PCl.
CHAPTER 13 Groupe Eurotunnel S.A.
CHAPTER 14 Delphi Corp. and the Credit Derivatives Market.
PART TWO Restructuring Equity and Assets.
CHAPTER 15 Humana Inc.: Managing in a Changing Industry.
CHAPTER 16 USX Corporation.
CHAPTER 17 E. I. du Pont de Nemours and Company: The Conoco Split-off.
CHAPTER 18 Seagate Technology Buyout.
CHAPTER 19 The Loewen Group Inc.
CHAPTER 20 Donald Salter Communications Inc.
PART THREE Restructuring Employees' Claims.
CHAPTER 21 Restructuring at Delphi Corporation.
CHAPTER 22 Navistar International.
CHAPTER 23 Scott Paper Company.
CHAPTER 24 UAL Corporation.
APPENDIX A Closing the Value Gap: A Simple Framework for Analyzing Corporate Restructuring.
APPENDIX B Valuing Companies in Corporate Restructurings: Technical Note.
About the Author.
Index.