Creating Value Through People: Discussions with Talent Leaders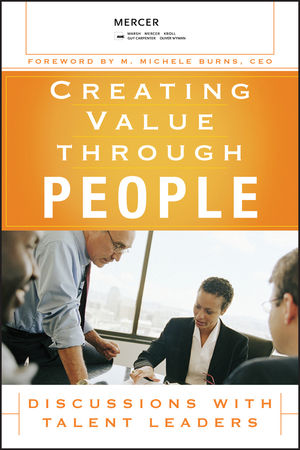 Creating Value Through People: Discussions with Talent Leaders
ISBN: 978-1-119-19702-7
Sep 2015
288 pages
Description
Practical guidance on how to empower people to do their best.

Filled with stories by and fascinating interviews with human capital innovators, Making a Difference Through People provides practical guidance on how to empower people to deliver their best performance by employing their guiding principles. Offering relevant strategies and tactics, each interview is preceded by an introduction that provides a biographical recap and a brief discussion of each innovator.

Mercer is the global leader for trusted HR and related financial advice, products and services. They work with clients at enhancing the financial and retirement security, health, productivity and employment relationships of the global workforce. M. Michele Burns is Chairman and Chief Executive Officer of Mercer Prior to being named Chairman and CEO of Mercer, Ms. Burns held the position of Chief Financial Officer for MMC.
About Mercer.
Acknowledgments.
Introduction.
Chapter One. Mike Abrashoff.
Former Comander, USS Benfold (U.S. Navy Retired).
Chapter Two. Jan Fields.
Executive Vice President and Chief Operating Officer, McDonald's Corporation.
Chapter Three. Dr. Victor Fung.
Group Chairman, Li & Fung Group of Companies.
Chapter Four. Anne Ruddy.
Executive Director, World at Work.
Chapter Five. James M. Coblin.
Vice president of Human Resources, Nucor Corporation.
Chapter Six. Dr. Richard Boyatzis.
Professor, Weatherhead School of Management, Case Western Reserve University.
Chapter Seven. Robert Joy.
Former Senior Vice-President, Human Resources, Colgate-Palmolive Professor, Executive Masters in Human Resource Leadership Program, Rutgers University.
Chapter Eight. Joel I. Klein.
Chancellor of the New York City Department of Education.
Chapter Nine. John Tyson.
Chairman, Tyson Foods
Chapter Ten. Tom Kelley.
Chief Executive Officer, IDEO.
Chapter Eleven. Simon Cooper.
President, Chief Operating Officer, The Ritz Carlton Hotel Company, LLC.
Chapter Twelve. Henri A. Termeer, Chairman and CEO, Genzyme Corp.
Chapter Thirteen. Gordon Bethune.
Former Chairman and CEO, Continental Airlines.
Chapter Fourteen. Linda Hill.
Wallace Brett Donham Professor of Business Administration Harvard Business School.
Chapter Fifteen. Billy Beane General Manager, Oakland Athletics, Baseball Team.
Chapter Sixteen. Micky Arison.
Chairman, CEO, Carnival Corporation.
Chapter Seventeen. Linda Smith.
Founder, President and Chief Executive Officer Four-D College.
Chapter Eighteen. Ilene H. Lang.
President , Catalyst.
Chapter Nineteen. Ron Sargent.
CEO of Staples, Inc.
Chapter Twenty. Jerry (Yoram) Wind.
The Lauder Professor, The Wharton School.
Founder, Wharton School Publishing.
Chapter Twenty-One. Howard Behar.
Former President, Starbucks North America Former President, Starbucks International.
"Produced by Mercer, this text contains interviews of 20 human capital innovators from diverse backgrounds, including CEOs of Fortune 500 companies." (Book News, May 2009)