Creating Value through Corporate Restructuring: Case Studies in Bankruptcies, Buyouts, and Breakups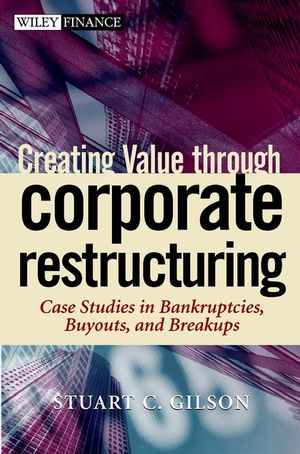 Creating Value through Corporate Restructuring: Case Studies in Bankruptcies, Buyouts, and Breakups
ISBN: 978-0-471-21723-7
Dec 2001
528 pages
Description
A collection of case studies illustrates real-world techniques, implementation, and strategies on corporate restructuring
Over the period 1981-1998, public companies with combined assets of over half a trillion dollars filed for Chapter 11 bankruptcy. Over the same period, over 400 public companies underwent corporate spin-offs, divesting businesses valued at more than $250 billion. Each of these companies, and all of these dollars, were in some way or another involved in corporate restructuring. Gilson's cases studies have been used extensively in executive programs and are perfect tools to refer to when faced with real-world corporate restructuring issues.
Stuart C. Gilson (Boston, MA) is an Associate Professor at Harvard University and a widely acknowledged expert on corporate restructuring. He has studied and published on the intricacies of both domestic and international corporate restructuring.
INTRODUCTION.

Corporate Restructuring: Challenges and Opportunities.

RESTRUCTURING CREDITORS' CLAIMS.

The Loewen Group Inc.

National Convenience Stores Incorporated.

Continental Airlines--1992.

Flagstar Companies, Inc.

Alphatec Electronics Pcl.

Investing in Distressed Situations: A Market Survey.

RESTRUCTURING SHAREHOLDERS' CLAIMS.

Humana Inc.: Managing in a Changing Industry.

USX Corporation.

Donald Salter Communications Inc.

RESTRUCTURING EMPLOYEES' CLAIMS.

Navistar International.

Scott Paper Company.

FAG Kugelfischer: A German Restructuring.

Chase Manhattan Corporation: The Making of America's Largest Bank.

UAL Corporation.

Appendix A: Closing the Value Gap: A Simple Framework for Analyzing Corporate Restructuring.

Appendix B: Valuing Companies in Corporate Restructurings: Technical Note.

Index.
"With the number of corporate bond defaults up sharply over the lows of the middle-to-late 1990s, Creating Value through Corporate Restructuring: Case Studies in Bankruptcies, Buyouts, and Breakups (John Wiley & Sons, Inc.) is reaching the market at an apt moment. The book, which is written by Harvard Business School Professor Stuart Gilson, employs the case study method to examine the restructuring of the claims of creditors, shareholders, and employees. Of greatest interest to high yield and distressed investors is the section on financial distress, which studies such familiar companies as Continental Airlines, Flagstar Companies, The Loewen Group, and National Convenience Stores. Gilson also provides a market survey of distressed investing, exploring such nuances as prepackaged bankruptcy, "bondmail" (gaining control of a class of debt to block approval of a reorganization plan), exit strategies, tax issues, and disqualification of votes on a bankruptcy reorganization plan. Creating Value through Corporate Restructuring also addresses company overhauls that occur outside the context of potential or actual bankruptcy. Techniques include issuance of tracking stock, spin-offs, layoffs, plant closings, revisions of employee retirement benefits, and mergers. Gilson maintains a global perspective, incorporating cases not only from the United States, but also from Germany and Thailand."-- High Yield, a Merrill publication by Marty Fridson

"... Stuart Gilson, of the Harvard Business School, has managed to write a book important to everybody in the distressed market that is also quite enjoyable. His prose is fluid and succinct and a pleasure to read. . . The text covers 13 corporate restructurings focusing on debt workouts, vulture investing, equity spinoffs, tracking stock, asset divestitures, employee layoffs, corporate downsizing, M & A, HLTs, wage give-backs, employee stock buyouts, and the restructuring of employee benefit plans. . . . this is an especially valuable text for anybody working in the distressed market." (Turnarounds & Workouts Magazine, Review by David M. Henderson)

Gilson's book provides a meaningful framework for analyzing any restructuring and a guide to various tools and additional references....Detailed exhibits at the end of each chapter provide the hard, quantifiable financial and industry data that management and stakeholders must interpret to plan, negotiate, and execute a restructuring. The exhibits are especially insightful and provide examples of alternatives for presenting relevant factual information on complex restructurings. (The Journal of Corporate Renewal)