Creating Web Sites Bible, 2nd Edition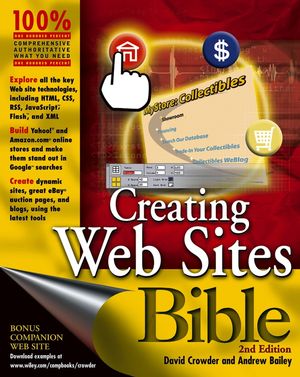 Creating Web Sites Bible, 2nd Edition
ISBN: 978-0-764-57498-6
Oct 2004
960 pages
Product not available for purchase
Description
Jam-packed with more than 800 pages of expert advice and hands-on guidance, this book has everything readers need to build their own cutting-edge Web sites
A one-stop resource that delivers the scoop on everything from HTML, tables, and forms to JavaScript and Flash
Brand-new chapters cover getting attention with Google AdWords, building Yahoo! and Amazon.com stores, creating great eBay auctions, and getting paid with PayPal
Includes new information on designing with cascading style sheets, syndicating a site with RSS, building a blog, and more
Preface.
Acknowledgment.
Part I: The Basics of Building Web Pages and Sites.
Chapter 1: Planning Your Web Pages.
Chapter 2: Promoting Your Site.
Chapter 3: Basic HTML Building Blocks.
Chapter 4: Organizing Your Site.
Chapter 5: Putting It on the Web.
Part II: Enhancing Web Pages with Fonts, Images, and Color.
Chapter 6: Getting Fancy with Text.
Chapter 7: Finding Images.
Chapter 8: Blending Images Into Your Web Pages.
Chapter 9: Creating and Enhancing Images.
Chapter 10: Adding Color Throughout Your Site.
Part III: Designing Web Layouts.
Chapter 11: Harnessing the Power of Tables.
Chapter 12: Organizing Your Site With Frames.
Chapter 13: Styling Web Pages with Cascading Style Sheets.
Chapter 14: Positioning Elements with DIVs.
Part IV: Adding Interactivity With Flash, Forms, and Other Tools.
Chapter 15: Getting Input with Forms.
Chapter 16: Making Dynamic Pages with JavaScript.
Chapter 17: Navigating Your Web Site.
Chapter 18: Adding Dynamic Page Elements with DHTML.
Chapter 19: Animating with Macromedia Flash.
Chapter 20: Adding Multimedia and Other Objects.
Chapter 21: Blogging.
Part V: Cashing In on E-Commerce.
Chapter 22: Setting Up Your Store.
Chapter 23: Selling on eBay.
Chapter 24: Getting Paid.
Chapter 25: Using Advertising.
Chapter 26: Covering All the Bases.
Part VI: Maintaining and Updating Your Site.
Chapter 27: Maintaining Your Site.
Chapter 28: Updating Your Site.
Chapter 29: Designing with XML.
Chapter 30: Making Your Site Mobile with WAP/WML.
Part VII: Appendixes.
Appendix A: HTML 4.01 Specification.
Appendix B: XHTML 1.0, Second Edition Specification.
Appendix C: XML 1.0, Third Edition Specification.
Appendix D: WML 2.0 Specification.
Appendix E: JavaScript Reference.
Glossary.
Index.
Chapter 12 Files
Download the files for Chapter 12 in zip format.
The material has been stored in ZIP format. If your computer is not capable of opening ZIP files, you can download a trial program such as WinZip to view the material.
Download
Chapter 13 Files
Download the files for Chapter 13 in zip format.
The material has been stored in ZIP format. If your computer is not capable of opening ZIP files, you can download a trial program such as WinZip to view the material.
Download
Chapter 14 Files
Download the files for Chapter 14 in zip format.
The material has been stored in ZIP format. If your computer is not capable of opening ZIP files, you can download a trial program such as WinZip to view the material.
Download
Chapter 15 Files
Download the files for Chapter 15 in zip format.
The material has been stored in ZIP format. If your computer is not capable of opening ZIP files, you can download a trial program such as WinZip to view the material.
Download
Chapter 16 Files
Download the files for Chapter 16 in zip format.
The material has been stored in ZIP format. If your computer is not capable of opening ZIP files, you can download a trial program such as WinZip to view the material.
Download
Chapter 18 Files
Download the files for Chapter 18 in zip format.
The material has been stored in ZIP format. If your computer is not capable of opening ZIP files, you can download a trial program such as WinZip to view the material.
Download
Chapter 20 Files
Download the files for Chapter 20 in zip format.
The material has been stored in ZIP format. If your computer is not capable of opening ZIP files, you can download a trial program such as WinZip to view the material.
Download
Chapter 29 Files
Download the files for Chapter 29 in zip format.
The material has been stored in ZIP format. If your computer is not capable of opening ZIP files, you can download a trial program such as WinZip to view the material.
Download
Chapter 30 Files
Download the files for Chapter 30 in zip format.
The material has been stored in ZIP format. If your computer is not capable of opening ZIP files, you can download a trial program such as WinZip to view the material.
Download