Creating a Million-Dollar-a-Year Sales Income: Sales Success through Client Referrals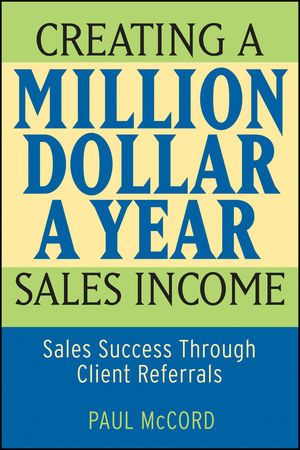 Creating a Million-Dollar-a-Year Sales Income: Sales Success through Client Referrals
ISBN: 978-0-470-06995-0 February 2007 224 Pages
Description
In Creating a Million-Dollar-a-Year Sales Income, Paul McCord sets out a detailed, yet flexible course of action that has been proven to generate referrals in virtually any sales system or environment and in any industry. This easy-to-read reference guide features compelling real-world examples of common mistakes and solutions that will transform lost opportunities into real prospects. Create the referral base that guarantees success!
Table of contents
INTRODUCTION.
CHAPTER 1. Why Salespeople Fail.
CHAPTER 2. Referrals Are the Solution.
CHAPTER 3. Simply Asking for Referrals Doesn't Work.
CHAPTER 4. Establishing the Referral Relationship.
CHAPTER 5. Getting Agreement on Terms.
CHAPTER 6. Negotiating for Referrals.
CHAPTER 7. Earning the Referrals.
CHAPTER 8. The Referral Acquisition Meeting.
CHAPTER 9. Contacting the Referred Prospect.
CHAPTER 10. The Next Generation of Referrals.
CHAPTER 11. What if They Don't Buy?
CHAPTER 12. Creating Referral Partnerships.
CHAPTER 13. Networking for Referrals.
CHAPTER 14. Common Objections to Referral Selling.
INDEX.