Creating and Capturing Value: Perspectives and Cases on Electronic Commerce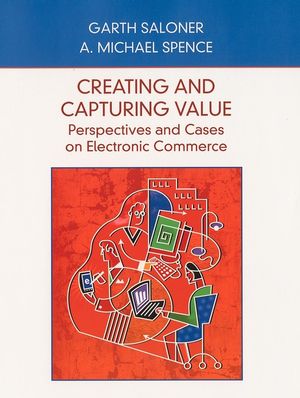 Creating and Capturing Value: Perspectives and Cases on Electronic Commerce
ISBN: 978-0-471-41015-7
Oct 2001
608 pages
Description
Written by two experts in the field, A. Michael Spence, winner of the 2001 Noble Prize for Economics, and Garth Saloner, the Jeffrey S. Skoll Professor of Electronic Commerce, Strategic Management, and Economics at Stanford University, Creating and Capturing Value: Perspectives and Cases on Electronic Commerce is an introduction for students to the volatile, developing world of e-commerce. The book has two parts, ""Perspectives"" and ""Cases."" ""Perspectives "" provides an overview of important issues in electronic commerce such as the technologies that preceded the Internet, how the new technologies are changing the landscape and how new and established firms must respond to changes in the business environment. ""Cases"" includes 22 cases that have been developed at Stanford over the past couple of years.
Part I: PERSPECTIVES.

Introduction.

Chapter 1. Technological Drivers of Change.

Chapter 2. Creating Value: Economics of Internet-Based Commerce.

Chapter 3. Capturing Value: Market Structure and Competition.

Chapter 4. Creating and Capturing Value in the Supply Chain.

Part II: CASES.

Overview of the Cases.

Section 1. Technology and Logistics.

ERP Overview.

SAP and the Online-Procurement Market.

Siebel Systems, Inc.

QRS Corporation.

AOL: The Emergence of an Internet Media Company.

Webvan: The New and Improved Milkman.

Section 2. Markets and Channels.

Online Auctions.

E-Markets 2000.

Pricing and Branding on the Internet.

GAP.com.

Nike--Channel Conflict.

Disintermediation in the U.S. Auto Industry.

Section 3. Strategy and Organization.

E-Commerce Building Blocks.

Karen Brown.

Broker.com.

BabyCenter.

HP E-Services.Solutions.

Cisco Systems: A Novel Approach to Structuring Entrepreneurial Ventures.

Tradeweave.

Section 4. Public Policy Issues.

DoubleClick and Internet Privacy.

eBay and Database Protection.

Internet Taxation.
The book includes cases developed at Stanford University, written from the perspective of Silicon Valley, at the heart of the e-commerce revolution. All cases in the book were written within the last two years, and their currency will keep students's attention.



""Perspectives"" section presents conceptual frameworks and thinking that is cutting-edge. For example, there is an outstanding ""conceptual map"" of the IT landscape and how it relates to developments in electronic commerce.



The authors are very involved in e-commerce companies and have strong reputations in the field. Companies that the authors have first-hand knowledge of- such as Nike, Siebel, QRS (either Saloner or Spence is on the board of directors) and Tradeweave (Saloner was a founder)- are discussed in the book. Garth Saloner is a co-director of The Stanford Business School Center for Electronic Business and Commerce (CEBC). The CEBC was established in December 1999 to leverage existing knowledge creation and curriculum development efforts and start new ones. Saloner and Spence teamed up to develop a highly successful MBA electronic commerce elective and embarked on a program to develop an entirely new set of Stanford cases.



""Perspectives"" section is relatively short and gives students an easy-to-read overview of high-level issues. For example, Chapter 2 provides a brief, comprehensive overview of technology. This provides instructors a framework, while allowing the flexibility for instructors to add their own emphasis.