Creating the Innovation Culture: Leveraging Visionaries, Dissenters and Other Useful Troublemakers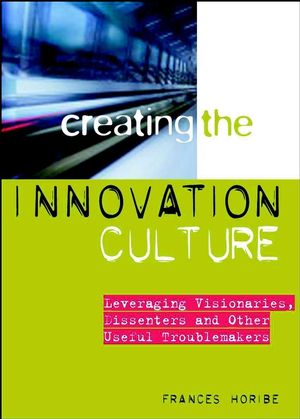 Creating the Innovation Culture: Leveraging Visionaries, Dissenters and Other Useful Troublemakers
ISBN: 978-0-470-15671-1 December 2010 272 Pages
Description
Why dissenters can be an organization's most valuable asset and how to transform dissent into innovation
Innovation is essential to competitive survival in today's global marketplace. But in the majority of traditional organizations, innovators are perceived as counter-productive dissenters, single-minded troublemakers who are difficult to manage and politically naive. Written by a leading international expert on change management, this groundbreaking book explores the vital link between the need for innovation in the e-business world and the new role of dissenters as agents for constructive change. With the help of numerous case examples and anecdotes, Frances Horibe helps managers appreciate the value that dissent can bring to an organization, and she provides proven strategies and hands-on advice on how to encourage innovation and manage creative dissent, while avoiding paralyzing conflicts. Readers learn about the new role of managers as political handlers who help develop and support new ideas and sell them to senior management, and much more.
Frances Horibe (Ottawa, Ontario) is President of VisionArts International, Inc., a consulting firm specializing in radical change management.
Acknowledgements.

The Need for Innovation.

The Efficiency-Innovation Dichotomy.

The Need for Dissent.

The Nature of Dissent in Organizations.

Ways You'd Never Suppress Dissent-- Would You?

Surprising Ways to Suppress Dissent.

Who are Dissenters?

Manager as Political Handler.

Coaching Dissenters.

Identifying Underground Dissent.

Surfacing Dissent In and Around You.

Surfacing Dissent above You.

Kickstarting Your Innovation Culture.

Structures and Mechanisms for Dissent.

Encouraging Continued Dissent.

Knowing when Enough is Enough.

Conclusion.

Index.
"..This is a book which every conventional manager should read." (Modern Management, February 2002)