Creating the New American Hospital: A Time for Greatness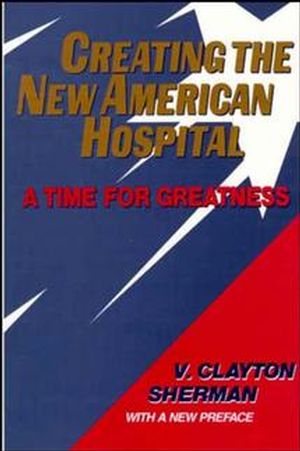 Creating the New American Hospital: A Time for Greatness
ISBN: 978-1-555-42514-2
Feb 1993, Jossey-Bass
336 pages
Description
Transforming the American Hospital

Provides an exciting, values-centered approach to leading organizational change that produces rapid and lasting results.
--Coyla Anderson, executive vice president, operations, Holy Cross Health System

At a time when the health care industry is going through a crisis--closures, layoffs, soaring costs, dissatisfied customers, and increased turnover--some hospitals have dramatically improved quality, productivity, and profitability. How?

They have met the challenges of operating in today's health care environment through a complete, revolutionary transformation in how hospitals are managed. This book offers health care leaders an in-depth picture of how this new hospital operates and presents detailed, proven guidance for undertaking the transition.
BUILDING A BRIGHTER FUTURE FOR AMERICAN HEALTH CARE.

Why Hospitals Fail.

Reinventing the American Hospital.

HOW THE NEW AMERICAN HOSPITAL FUNCTIONS.

Unleashing People for Contribution.

Delivering the Service Strategy.

The Quality-Productivity-Innovation Equation.

A Streamlined Management System.

Optimizing Organizational Structure.

SUCCEEDING IN ORGANIZATIONAL RENEWAL.

Leading the Transition.

Managing Wide-Scale Change and Reconstruction.

Preparing for Transformation.

Implementing the Renewal Strategy.

Accelerating the Change Process.

Driving Change with Rewards.
"This hands-on guidebook is full of useful suggestions for making America's hospital's the caring--and cost-effective--places they should be. From managing by key results areas to employee empowerment to strategies for putting the customer first, Clayton Sherman brings the best of new management wisdom to health care." (Rosabeth Moss Kanter, author of When Giants Lean to Dance and coauthor of The Challenge of Organizational Change)

"A superb book, containing many ideas that will ensure the success of those who manage hospitals. A thought-provoking book written at a most appropriate time as our nation moves forward with much needed health reform." (Richard E. Meiers, president and CEO, Hawaii Hospital Association)

"Provides an exciting, values-centered approach to leading organizational change that produces rapid and lasting results. Must reading for the emerging health care leaders of the next century." (Coyla Anderson, Executive vice president, operations, Holy Cross Health System)

"As hospitals enter into a period of substantial health care reform, Creating the New American Hospital provides hospital leaders, trustees, medical staffs, and other personnel with practical guidelines for ensuring that quality health care is delivered in an affordable and effective way." (Terry TownsAnd, CAE, president and CEO of the Texas Hospital Association)