Credit Risk Assessment : The New Lending System for Borrowers, Lenders, and Investors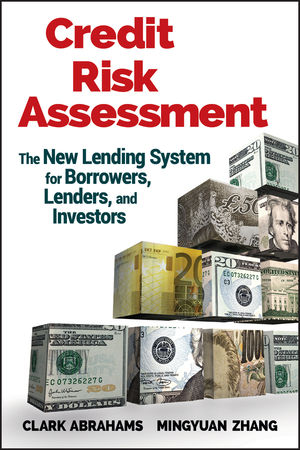 Credit Risk Assessment : The New Lending System for Borrowers, Lenders, and Investors
ISBN: 978-0-470-46168-6
Apr 2009
320 pages
Description
"Clark and Mingyuan start with an insightful and comprehensive description of how market participants contributed to the current crisis in the residential mortgage markets and the root causes of the crisis. They then proceed to develop a new residential mortgage lending system that can fix our broken markets because it addresses the root causes. The most impressive attributes of their new system is its commonsense return to the basics of traditional underwriting, combined with factors based on expert judgment and statistics and forward-looking attributes, all of which can be updated as markets change. The whole process is transparent to the borrower, lender, and investor." —Dean Schultz, President and CEO, Federal Home Loan Bank of San Francisco
"The credit market crisis of 2008 has deeply affected the economic lives of every American. Yet, its underlying causes and its surface features are so complex that many observers and even policymakers barely understand them. This timely book will help guide nonspecialists through the workings of financial markets, particularly how they value, price, and distribute risk." —Professor William Greene, Stern School of Business, New York University
"This book is a well-timed departure from much of what is being written today regarding the current foreclosure and credit crisis. Rather than attempting to blame lenders, borrowers, and/or federal regulators for the mortgage meltdown and the subsequent impacts on the financial markets, Clark and Mingyuan have proposed a groundbreaking new framework to revolutionize our current lending system. The book is built on the authors' deep understanding of risk and the models used for credit analysis, and reflects their commitment to solve the problem. What I find most profound is their passion to develop a system that will facilitate new and better investment, especially in underserved urban markets that have been disproportionately impacted in the current crisis. I applaud the authors for this important work, and urge practitioners and theorists alike to investigate this new approach." —John Talmage, President and CEO, Social Compact
"In the wake of the credit crisis, it is clear that transparency is the key to not repeating history. In Credit Risk Assessment: The New Lending System for Borrowers, Lenders and Investors, Clark Abrahams and Mingyuan Zhang describe a new lending framework that seeks to connect all the players in the lending chain and provide a more holistic view of customers' risk potential. As the financial services industry recovers from the mortgage meltdown, the Abrahams/Zhang lending model certainly offers some new food for thought to laymen and professionals alike." —Maria Bruno-Britz, Senior Editor, Bank Systems & Technology magazine
Buy Both and Save 25%!
Original Price:$139.95
Purchased together:$104.96
save $34.99
Cannot be combined with any other offers.
Preface.
Chapter 1: Unpacking the Financial Crisis.
Chapter 2: The Case for a Comprehensive Credit Assessment Framework.
Chapter 3: The lenders and the Underwriting gap.
Chapter 4: The borrower and Loan Affordability.
Chapter 5: The Investors and Financial Innovation.
Chapter 6: Crisis Intervention and Prevention.
Index.