Credit Spreads and Iron Condors: New Tactics to Collect Premium and Lower Risk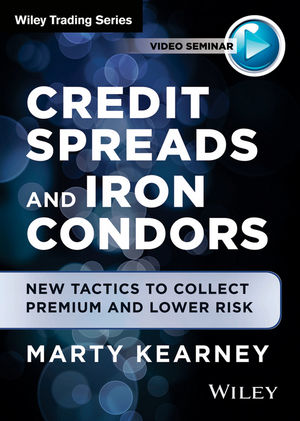 Credit Spreads and Iron Condors: New Tactics to Collect Premium and Lower Risk
ISBN: 978-1-592-80478-8
Apr 2013
Description
"Finally, a series built by the premier options education source, designed to help traders at all levels."
Are you looking for an options strategy with limited risk? Low commission costs? One that you could trade every month?
In this presentation, Marty Kearney, popular instructor at The Options Institute at the CBOE, will walk you through two such strategies - the credit spread and the iron condor. Marty goes through each strategy step-by-step, revealing considerable flexibility. He also includes a discussion of different indexes, ETFs, and options to use when trading either strategy.
Using examples featuring current market conditions, Marty clearly illustrates how the credit spread or the iron condor can be affected by market variables such as:
Volatility,
Time decay, and
The ''Greeks.''
With the comprehensive online support manual, Marty walks you through the calculations for minimum risk and margin requirement. He'll explain the tradeoffs and the pros and the cons of each strategy. He'll show you how to manage your position, and even share with you a bonus strategy - the skip-strike butterfly, an alternative strategy that, like the other two, will allow you to limit risk while collecting premium.