Crescendo: An Intermediate Italian Program, Activities Manual, Edition 3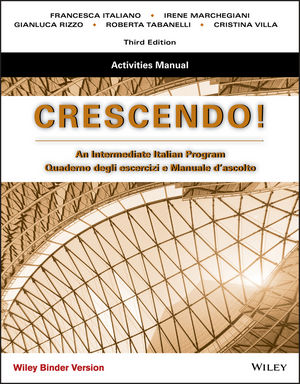 Crescendo: An Intermediate Italian Program, Activities Manual, Edition 3
ISBN: 978-1-119-34674-6
Aug 2016
216 pages
Description
This is an activities manual to accompany Crescendo!, 3rd Edition.
Crescendo!, 3rd Edition is a comprehensive intermediate Italian program designed to build proficiency in all four language skills (listening, reading, speaking, and writing), and to expand students' cultural knowledge of contemporary Italy. The Crescendo! program helps build a dynamic and interactive environment by providing opportunities for practice through a systematic and spiral presentation of themes and current issues that are both relevant and interesting, and by encouraging readers to express themselves freely and creatively in a wide spectrum of contexts.
Media: each chapter is complemented by well-developed activities based on readings, songs, films, and video clips. This variety of media allows readers to practice chapter vocabulary and grammar, deepen their understanding of chapter themes, and enrich their perceptions of cultural similarities and differences.
The Facciamo conversazione sections throughout the book incorporate substantial new material consisting of brief authentic texts and more extensive readings of the most varied nature as well as thought-provoking related work.
Leggiamo readings are new. Taken primarily from newspapers, magazines, and online sources, these readings provide up-to-date cultural and linguistic input.
Students use Italian actively and creatively in progressively open-ended communicative contexts. Each chapter is organized into five sections:
Facciamo conversazione emphasizes vocabulary review and acquisition through cultural readings and related activities.
Strutture provides a review of and expansion upon functionally related grammatical structures.
Ascoltiamo emphasizes the development and practice of listening skills in a chapter-related context.
Testi e contesti, devoted to the reading of a longer authentic text by a famous Italian author, includes pre-reading tasks and activities as well as post-reading comprehension and discussion questions.
Per scrivere focuses on the presentation and practice of a specific writing strategy.