Crime, The Mystery of the Common-Sense Concept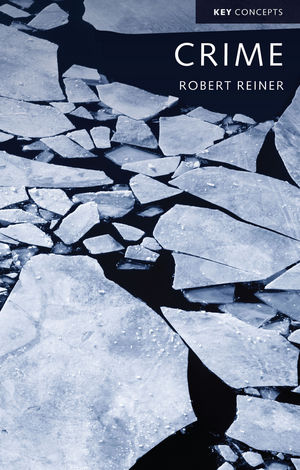 Crime, The Mystery of the Common-Sense Concept
ISBN: 978-1-509-51076-4 June 2016 Polity 272 Pages
Download Product Flyer
Download Product Flyer
Download Product Flyer is to download PDF in new tab. This is a dummy description. Download Product Flyer is to download PDF in new tab. This is a dummy description. Download Product Flyer is to download PDF in new tab. This is a dummy description. Download Product Flyer is to download PDF in new tab. This is a dummy description.
Description
Crime is a source of endless fascination and fear. Yet behind the apparent consensus that crime must be fought, there is considerable conflict about what should or should not be treated as criminal, and even the most shocking crimes can inspire divisive debate.

This concise book explores the seemingly simple, common-sense concept of crime revealing the huge complexities, ambiguities and tensions that lie beneath it. Criminal law is often at odds with different moral perspectives and the practices of different cultures. The mass media distort the picture profoundly, as do politicians in pursuit of law and order votes. The criminal justice system tackles only a limited range of crimes – almost entirely ones committed by the poor and relatively powerless – while often neglecting the most dangerous and harmful activities of corporations and states, from the carnage of unjust wars to the tragedies engendered by austerity. It is only by examining the multiple and varied perspectives on crime that we can begin to understand and respond appropriately to this social phenomenon.

Written by a world-leading criminologist, this insightful book will be an invaluable and captivating introduction for students and interested readers of criminology, law, sociology and politics.
Table of contents
Introduction. Crime: Conundrums of a Common-Sense Concept
Chapter One. Legal Conceptions of Crime
Chapter Two. Moral Conceptions of Crime
Chapter Three. Everybody's Doing It: Social Conceptions of Crime and Deviance
Chapter Four. How Do They Get Away With It? The Non-Criminalization of the Powerful
Chapter Five. The Criminal Justice Process and Conceptions of Crime
Chapter Six. Media, Crime and the Politics of Law and Order
Chapter Seven. Whodunnit and Why? Criminological Conceptions of Crime
Conclusion. Crime: A Capital Concept
Reviews
"This book displays in abundance the hallmarks of Robert Reiner's work: it synthesizes a vast amount of literature and data into a remarkably accessible and compelling narrative, and it is both sociologically dispassionate and morally serious about its subject matter. The result is an accomplished introduction to the concept of crime."
Ian Loader, University of Oxford
"'Crime' is a keyword in contemporary politics and culture: widely used, powerfully consequential, and – for all its seeming simplicity – deeply complex and contested. In this masterly account, Robert Reiner traces the concept's multiple meanings and ramifications, its role in criminological theory and political discourse, and its intimate association with the history of capitalism. This is an essential, eye-opening guide to one of the central issues of our time."
David Garland, New York University


"Reiner brings together a vast amount of literature, and makes a compelling case."
Professional Security Magazine Online
"
Crime
is a succinct and eminently readable work that is none the worse for its occasional streak of combativeness. Notwithstanding the variety of topics covered, Reiner's writing is invariably clear, rich in detail and draws on a variety of theoretical and empirical studies."
LSE Review of Books
"The more you read, the more you become aware that your view of crime is probably ill-judged and subjective, usually based on ignorance or a low-level desire to punish a hurt you think you've suffered… 'Crime' is well worth the effort of reading."
Tribune Magazine
"Useful right through from first-year to Masters criminology and related disciplines, this book is, for me, the best short overview of the concept of crime on the market."
Policing & Society


"Much of the book is essentially introductory, providing a lucid and readable overview of the way that the concept of crime is used in a range of different disciplines or institutions. […] However, running alongside this is a more complex argument which makes a real contribution to our understanding of the concept and its use."
Lindsay Farmer, Criminology and Criminal Justice


"Reiner provides an impressive overview of the legal, criminological, philosophical, and sociological literature on the concept, inciting the reader to delve further into the existing research. Despite the complexity of the subject matter, Reiner characteristically presents it in a clear, lively, and highly-readable way, peppering his text with cultural references and interesting anecdotes."
Emma Bell, The Howard Journal of Crime and Justice


"Often defined as a one-dimensional concept, Reiner exposes the striking complexities of crime, while at the same time offering insight into how western society has attempted to operate without a general consensus on the topic. […] For those unfamiliar with the history of the concept of crime and its role in Western Europe and America, this book provides a wealth of unbiased history, philosophical debates, and statistical evidence."

Criminal Law and Criminal Justice