Criminological Imagination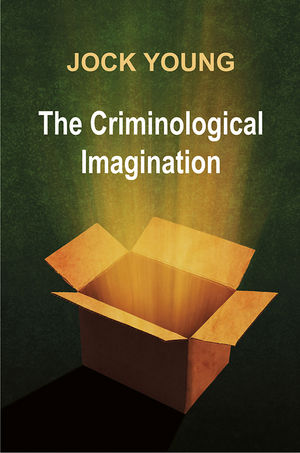 Criminological Imagination
ISBN: 978-0-745-64106-5 August 2011 Polity 224 Pages
Download Product Flyer
Download Product Flyer
Download Product Flyer is to download PDF in new tab. This is a dummy description. Download Product Flyer is to download PDF in new tab. This is a dummy description. Download Product Flyer is to download PDF in new tab. This is a dummy description. Download Product Flyer is to download PDF in new tab. This is a dummy description.
Description
For the last three decades Jock Young's work has had a profound impact on criminology. In this provocative new book, Young rejects much of what criminology has become, criticizing the rigid determinism and rampant positivism that dominate the discipline today. His erudite and entertaining examination of what's gone wrong with criminology draws on a range of research - from urban ethnography to sexology and criminal victimization studies - to illustrate its failings.
Young makes a passionate case for a return to criminology's creative and critical potential, partly informed by the new developments in cultural criminology. A late-modern counterpart to C. Wright Mills' classic The Sociological Imagination, this inspirational piece of writing from one of the most brilliant voices in contemporary criminology will command widespread attention. The concluding part of the author's trilogy of influential texts including The Vertigo of Late Modernity and The Exclusive Society, it will be essential reading for anyone who cares about the future of criminology, and the social sciences more generally.
Table of contents
Introduction: The Legacy of C. Wright Mills
1. Closing Down the Imagination
2. Measurement and the Sexologists
3. Amnesia and the Art of Skating on Thin Ice
4. The Bogus of Positivism
5. The Loosening of the Moorings: The Emergence of Cultural Criminology
6. Giuliani and the New York Miracle
7. Magic, Mayhem and Margaret Mead: Towards a Critical Ethnography
8. Subcultures as Magic: Problems of Urban Ethnography
9. Dangerous Knowledge and the Politics of the Imagination
10. Rescuing the Imagination
Reviews
"Great teachers like Young translate between cultural forms and fields of knowledge."
Kriminologisches Journal
'The terms "criminology" and "imagination" do not naturally belong together. Jock Young's singular achievement is to apply a fine "criminological imagination", exposing the soulless discourse of mainstream criminology and reflecting upon the alternative critical tradition in which he himself played such a central role.'
Stan Cohen, London School of Economics and Political Science
'If reading a clever and consequential book were a crime, you would get arrested and hauled straight to jail for picking up The Criminological Imagination. Adapting and deepening C.-Wright Mills's classic critique of the foibles of sociology, Young not only offers a razor-sharp diagnosis of how criminology lost its way in a funny-mirror house of methodological fetishism, empirical legerdemain, conceptual confusion and policy subservience. He also clears a path toward rescue and renewal: criminology can regain its analytic poise and civic relevance by embracing its sociological grounding and by reconnecting crime to formations of meaning and power. This book will energize all those who wish to free the craft from the clutches of the profession, and it is sure to fire up vigorous debate between and among partisans of mainstream and critical criminology.'
Loïc Wacquant, author of Urban Outcasts: A Comparative Sociology of Advanced Marginality and Punishing the Poor: The Neoliberal Government of Social Insecurity.
Features
A provocative and potent analysis of criminology today and its possible futures
Written by a world-renowned criminologist who has been at the cutting-edge of criminological theory for decades
Jock Young has a history of setting new debates in criminology, and this book will do the same
The writing is always erudite and entertaining making it accessible to students as well as essential for scholars