Crisis Leadership: Planning for the Unthinkable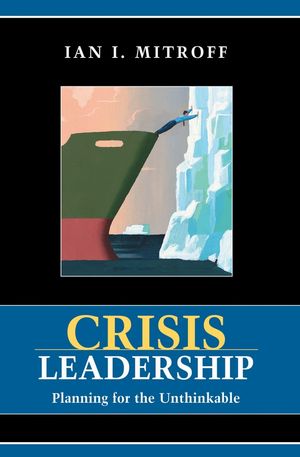 Crisis Leadership: Planning for the Unthinkable
ISBN: 978-0-471-22918-6 April 2003 144 Pages
Description
A first in the important new field of crisis leadership, Ian Mitroff's new text presents a comprehensive, integrated framework that shows how, where, and why various corporate functions, such as legal, security, manufacturing, finance, and public affairs, work together to respond to crises and minimize their occurrence and impact on the organization.
Throughout, the emphasis is on preventing problems before they happen, rather than putting the best possible spin on crises after they happen. The result is a text that helps students understand the multitude of factors and forces that need to be considered to implement effective, proactive leadership.
Chapter 1. Introduction—People, Technologies, and Crisis.
Chapter 2. The Failure of Conventional Thinking.
Chapter 3. The Failure of Conventional Organizations.
Chapter 4. The Failure of Conventional Responses.
Chapter 5. The Rise of Abnormal Accidents: A Brief History of Crises.
Chapter 6. The Different Languages of Managers and Executives: The Personalities of Individuals.
Chapter 7. The Personalities of Organizations.
Chapter 8. Crisis Leadership and the Myers-Briggs.
Chapter 9. The Role of Conflict in Crisis Leadership.
Chapter 10. An Expanded View of Signal Detection.
Chapter 11. Thinking the Absurd.
Chapter 12. The Vital Importance of Spirituality in Crisis Leadership.
Index.
The text presents a systematic, behavioral model that underlies crisis management, showing which personality functions are required for managing and preparing for major crises.
The book discusses the extreme importance of Emotional IQ in handling, responding, and preparing for any crisis.
Crisis Leadership presents the findings from new national surveys and new concrete, easy-to-understand models for implementing programs of proactive leadership.
The combination of models—including a comprehensive look at what happens before, during, and after a crisis—creates a truly integrated and systematic approach.