Critical Issues in Global Health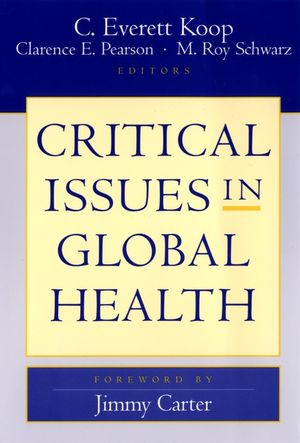 Critical Issues in Global Health
ISBN: 978-1-118-14613-2 August 2011 Jossey-Bass 504 Pages
Description
Critical Issues in Global Health is an outstanding compAndium of knowledge and thought--from a distinguished panel of internationally renowned medical and public health experts--that offers insight into the most important health issues facing our world's populations. The volume's individual contributors represent a wide range of prestigious health organizations and institutions including the World Health Organization, National Academy of Sciences, Kellogg and Rockefeller Foundations, U.S. Centers for Disease Control, and the American Public Health Association. Edited by C. Everett Koop, Clarence E. Pearson, and M. Roy Schwarz, these never-before-published essays explore the future of international health and explain what will be required in order to provide adequate health and medical care worldwide, especially for underdeveloped countries.
Foreword
Jimmy Carter
Introduction
C. Everett Koop
Part One -Countries, Continents, And The World
1 The Future Of The World's Health
Gro Harlem Brundtland
2 Africa
Adetokunbo O. Lucas
3 Latin America And The Caribbean
George A. O. Alleyne
4 Eastern Mediterranean Region
Hussein A. Gezairy
5 Europe
Jo E. Asvall, Richard Alderslade
6 Western Pacific
Shigeru Omi
7 People's Republic Of China
Zhang Wenkang, M. Roy Schwarz
8 India
V. Ramalingaswami
9 Russian Federation
Jack W. Lesar, Yuri M. Komarov, Rafael G. Oganov,
Robert W. Porter
10 United States
J. Michael Mcginnis
11 Mexico
Juan Ramón De La Fuente, Fernando Alvarez Del Rio, Roberto Tapia-Conyer, A. Rodrigo Ares De Parga
12 Canada
Irving Rootman, Trevor Hancock
Part Two -The Organizational Landscape In Global Health
13 Infectious Diseases
William H. Foege
14 Chronic Disease
James S. Marks, David V. Mcqueen
15 Mental Health
Eugene B. Brody
16 Tropical Diseases
Joseph A. Cook
17 The Outlook For Eradicating AIDS
Seth F. Berkley
18 -Future Worldwide Health Effects Of Current
Smoking Patterns 154
Richard Peto, Alan D. Lopez
19 Tobacco Control
Derek Yach
20 Environmental And Occupational Health
Bernard D. Goldstein
21 Environmental Health
Anthony J. Mcmichael, Alistair Woodward
22 Family And Reproductive Health
Allan Rosenfield, Elizabeth Tyler Crone
23 Maternal And Child Health
Pierre Buekens, J. T. Boerma
24 Midwifery
Judith P. Rooks, Ruth Watson Lubic
25 Building The Capacity Of Schools To Improve Health
Lloyd J. Kolbe, Jack T. Jones, Isolde Birdthistle,
Cheryl Vince Whitman
26 Women's Health
Adrienne Germain
27 Undernutrition
Barbara A. Underwood
28 The Nutritional Crisis To Come
W.P.T. James
29 Population And Health
Joseph Chamie
30 Interpersonal Violence
Lee Ann Hoff
31 Terrorism
Jessica Eve Stern
32 Urban Health
Jeremiah A. Barondess
33 Biomedical Research In The Next Century
Bruce Alberts
34 The Role And Potential Of Health Services Research
Gordon H. Defriese
35 Reinventing Medicine And Public Health
Kenneth I. Shine
36 Integrative Medicine
Andrew T. Weil
37 -Health Promotion, Health Education, And Disease Prevention
Lawrence W. Green, C. James Frankish
38 The Role Of Communication And Advertising
Thomas P. Lom
39 -Effective Communication As The Path To Ideal Health
Scott C. Ratzan
40 Changes Associated With Aging
Knight Steel
41 -The Relationship Between Oceans And Human Health
James D. Watkins, Anwar Huq
42 Careers In Public Health And Medical Care
Alexander H. Williams III
Part Three -Organizations, Management, Leadership, And Partnerships
43 -Shaping The Future Of Health Through Global Partnerships
William C. Richardson, John P. Allegrante
44 The Role Of Governments
Richard G. A. Feachem
45 The Role Of Business
William C. Steere Jr.
46 The Role Of The Nonprofit Sector
Kumi Naidoo
47 Business In Partnership With The Nonprofit Sector
Ralph S. Larsen
48 -The Nonprofit Sector In Partnership With Government
Nils Daulaire
49 Philanthropy And Global Health Equity
Lincoln C. Chen, Timothy G. Evans, Margaret E. Wirth
50 The Role Of Public Health Associations
Mohammad N. Akhter
51 The Mandate: Transformational Leadership
Gary L. Filerman, Clarence E. Pearson
"The book would make an excellent reference..." (
Annals of Pharmacotherapy
, April 2003)
"...is an excellent overview for those with an interest in improving global health." (New England Journal of Medicine, August 28, 2003)