Critical Marketing: Issues in Contemporary Marketing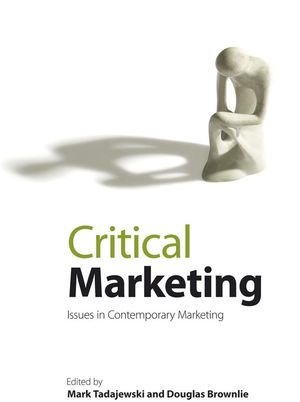 Critical Marketing: Issues in Contemporary Marketing
ISBN: 978-0-470-51198-5
Dec 2009
414 pages
Description
Focusing on a new and developing field, this text provides an overview of the development of marketing thought and the emergence of critical marketing. It covers a range of topics important to a critical marketing or contemporary issues in marketing course, including a number of topics (e.g. postcolonialism and marketing) previously not examined in detail in marketing.     
Buy Both and Save 25%!
Original Price:$117.90
Purchased together:$88.43
save $29.47
Cannot be combined with any other offers.
Acknowledgements xi
Chapter 1 Critical Marketing: A Limit Attitude 1
Mark Tadajewski and Douglas Brownlie
Chapter 2 Rethinking the Development of Marketing 29
Mark Tadajewski and Douglas Brownlie
Chapter 3 Prejudice V. Marketing? An Examination of some Historical Sources 33
Donald F. Dixon
Chapter 4 Early Development of the Philosophy of Marketing Thought 45
D.G. Brian Jones and David D. Monieson
Chapter 5 Consumer Sovereignty, Democracy, and the Marketing Concept: A Macromarketing Perspective 67
Donald F. Dixon
Chapter 6 Critical Reflections on Consumer Research 85
Mark Tadajewski and Douglas Brownlie
Chapter 7 Remembering Motivation Research: Toward an Alternative Genealogy of Interpretive Consumer Research 91
Mark Tadajewski
Chapter 8 Evolution, Biology and Consumer Research: What Darwin Knew that We've Forgotten 131
Elizabeth C. Hirschman
Chapter 9 Ethnopsychology: A Return to Reason in Consumer Behaviour 157
John O'Shaughnessy
Chapter 10 Marketing and Society 183
Mark Tadajewski and Douglas Brownlie
Chapter 11 Marketing, the Consumer Society and Hedonism 187
John O'Shaughnessy and Nicholas Jackson O'Shaughnessy
Chapter 12 Antiglobal Challenges to Marketing in Developing Countries: Exploring the Ideological Divide 211
Terrence H. Witkowski
Chapter 13 On Negotiating the Market? 245
Mark Tadajewski and Douglas Brownlie
Chapter 14 Sustainable Marketing 253
Ynte K. van Dam and Paul A.C. Apeldoorn
Chapter 15 An Ecofeminist Analysis of Environmentally Sensitive Women Using Qualitative Methodology: The Emancipatory Potential of an Ecological Life 271
Susan Dobscha and Julie L. Ozanne
Chapter 16 Past Postmodernism? 301
Mark Tadajewski and Douglas Brownlie
Chapter 17 Introspection as Critical Marketing Thought, Critical Marketing Thought as Introspection 311
Stephen J. Gould
Chapter 18 The Function of Cultural Studies in Marketing: A New Administrative Science? 329
Adam Arvidsson
Chapter 19 Thinking through Theory: Materialising the Oppositional Imagination 345
Pauline Maclaran and Lorna Stevens
Chapter 20 Postcolonialism and Marketing 363
Gavin Jack
Index 385
Includes seminal journal articles that marketing academics find hard to obtain
Also contains original commentary from leading academics in the critical marketing field
With the increasing emphasis on the need to view marketing practice in its wider political, cultural and social context and the desirability of studying the impact of marketing from multiple perspectives (e.g. managers, consumers and citizens), there is currently no single text that fills this gap from a distinctly critical approach