Critical Modernism: Where is Post-Modernism Going? What is Post-Modernism?, 5th Edition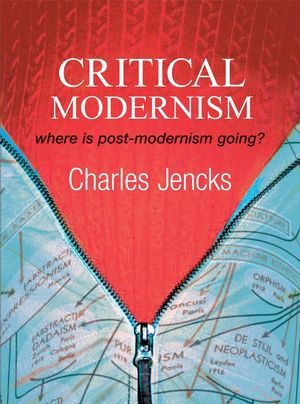 Critical Modernism: Where is Post-Modernism Going? What is Post-Modernism?, 5th Edition
ISBN: 978-0-470-03010-3 May 2007 240 Pages
Description
After developing for thirty years as a movement in the arts, after being disputed and celebrated, Post-Modernism has become an integral part of the cultural landscape. In this witty overview, Charles Jencks, the first to write a book defining the subject, argues that the movement is one more reaction from within modernism critical of its shortcomings. The unintended consequences of modernisation, such as the terrorist debacle and global warming, are typical issues motivating a Critical Modern response today. In a unique analysis, using many explanatory diagrams and graphs, he reveals the evolutionary, social and economic forces of this new stage of global civilisation. Critical Modernism emerges at two levels. As an underground movement, it is the fact that many modernisms compete, quarrel and criticise each other as they seek to become dominant. Secondly, when so many of these movements follow each other today in quick succession, they may reach a 'critical mass,' a Modernism2, and become a conscious tradition.
Preface - A refolution in five parts.
Chapter 1 ORIGINS AND BATTLES.
PM is Critical Modernism.
The Many Deaths of Modernism.
Two Views of Post-Modernism.
Post-modern Speaks Us.
Screams in the Cathedral.
Modernism as a Protestant Crusade.
Success Tames the Avant-garde.
Chapter 2 HYBRID CULTURE.
Double Coding and Irony.
Not Even Pastiche.
Complexity and the Enigmatic Signifier.
Post-modern Art - Cross-coding with Content.
Irony on the Verge of Cynicism.
Chapter 3 THE BLURRED SOCIETY.
The Rise of the Cognitariat.
The Triumph of the Muddle Class.
The Rise of Socitalism.
Cyclical, Linear and Crystalline Time.
Chapter 4 WANING NATIONS, RISING HETERARCHY.
Destructive Modernity.
The Transnational Heterarchy.
New World Order as Heterarchy.
Being Wise before the Event.
The Post-modern States.
One Cheer for the EU.
The Search for an Effective Heterarchy.
Chapter 5 COSMOGENESIS AND THE UNIVERSE PROJECT.
Belief in a Universe 13.7 Billion Years Big.
Complexity as a Measure of Quality.
Two Types of Evolution.
A Cultural Drive?.
The Universe Project.
A Jumping Universe.
Chapter 6 CRITICAL MODERNISM.
Creative to be Critical.
A Critical Iconography.
A Critical Coding.
A Critical Spirituality?
Critical Theory Carves up Doomsday Fatigue.
Critical Modernism as a Continuous Dialectic.
The White Elephant Theory of Modernism.
The Ten-year Rule and Continuous Refolution.
Hidden Tradition or Process?
Critical Modernism - a Conscious Movement?
Notes & References.
Acknowledgements.
Index.

In the fifth edition of this seminal work, Charles Jencks updates the text applying what Post-Modern now means in a post-millennium world that has had to face such cataclysmic events, as 9/11, the tsunami, and Hurricane Katrina.
"The post man still delivers" (
Building Design,
April 2007)

"Thirty years on from the publication of The Language of Post-Modern Architecture, its author explains why we are all modernists now." (www.BDonline.co.uk/podcast, April 07)

Written by the pre-eminent interpreter of post-modern architecture
A new modernist movement is defined for the 21st century by the doyen of post-modernism
Offers a unique analysis in Jencks' own style
Many explanatory diagrams and graphs