Critical Pathways to Success in CNS Drug Development, 1st Edition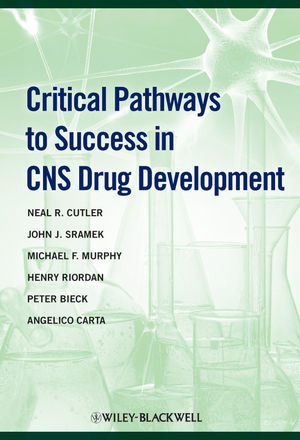 Critical Pathways to Success in CNS Drug Development, 1st Edition
ISBN: 978-1-444-33064-9 April 2010 Wiley-Blackwell 272 Pages
Description
Covering the latest advances in CNS drug development, this book will guide all those involved in pre-clinical to early clinical trials. The authors describe how recent innovations can accelerate the development of novel CNS compounds, improve early detection of efficacy and toxicity signals, and increase the safety of later-stage clinical trials.

The current crisis in the drug development industry is critically reviewed, as well as the steps needed to correct the problems, including new government-backed regulations and industry-based innovations designed to accelerate CNS drug development in the future.

Animal-based models of major CNS disorders are described in detail, and the ability of the latest in vitro and computer-based models to simulate CNS disease states and predict drug efficacy and side-effects are examined. Particular attention is given to the growing use of biomarkers and how they can be used effectively in early human trials as signals of potential drug efficacy, as well as the increasingly important role of imaging studies to guide dose selection. Cognitive assessments that can be useful indicators of effect in patient populations are also discussed.

Written by a team of clinical scientists involved in CNS drug trials for over 20 years, and based on a wealth of drug development and clinical trial experience, Critical Pathways to Success in CNS Drug Developmentis full of practical advice for successfully designing and executing CNS drug trials, avoiding potential pitfalls, and complying with government regulations
Acknowledgements.
Foreword.
1 The Impending Crisis in CNS Drug Development.
2 Animal Models and Procedures for CNS Disorders.
3 Pre-Clinical Antecedents to Early Human Clinical Trials.
4 Biomarkers and Surrogate Markers in Drug Development.
5 Neuroimaging and Cognitive Assessments in Early Drug Development.
6 Bridging and CSF Studies.
7 A Case Study from Pre-Clinical to Early Clinical Trials.
Index.

Review copy sent(x2) 25/05/11: Doody Enterprises, Inc.