Critical Perspectives on Student Development Theory: New Directions for Student Services, Number 154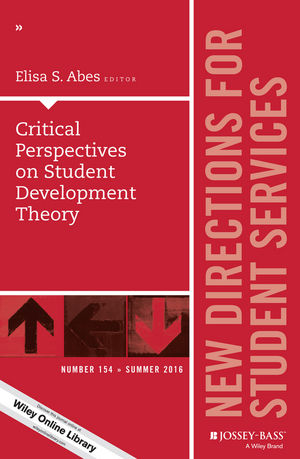 Critical Perspectives on Student Development Theory: New Directions for Student Services, Number 154
ISBN: 978-1-119-28395-9
Jun 2016, Jossey-Bass
112 pages
Description
The use of critical and post-structural theories, such as critical race theory, intersectionality, and queer theory, to explore student development is relatively new. Most current research looks beyond the individual to how systems of oppression, such as racism, ableism, and heterosexism mediate student development and the nature of student development theory.
This volume offers some of the most contemporary thinking about student development by:
reviewing recent critical post-structural scholarship;
offering new possibilities for using theoretical lenses; and
translating these theories into student affairs practice.
This is the 154th volume of this Jossey-Bass higher education quarterly series. An indispensable resource for vice presidents of student affairs, deans of students, student counselors, and other student services professionals, New Directions for Student Services offers guidelines and programs for aiding students in their total development: emotional, social, physical, and intellectual.
EDITOR'S NOTES 5
Elisa S. Abes
1. Situating Paradigms in Student Development Theory 9
Elisa S. Abes
This chapter describes four paradigms that situate student development, emphasizing how theory addresses systems of oppression.
2. Evolution of Student Development Theory 17
Susan R. Jones, Dafina-Lazarus Stewart
The authors frame the evolution of student development theory as three waves, with critical and poststructural perspectives comprising the most contemporary, evolving "third" wave.
3. Diverse and Critical Perspectives on Cognitive Development Theory 29
Kari B. Taylor
This chapter synthesizes foundational theories of cognitive development and examines how diverse worldviews and systems of power influence the nature of cognitive development.
4. Embracing the Messiness: Critical and Diverse Perspectives on Racial and Ethnic Identity Development 43
Marc P. Johnston-Guerrero
This chapter addresses multiple possibilities for the relationship between race and ethnicity in identity development, exploring how racism shapes these relationships.
5. Critical and Poststructural Perspectives on Sexual Identity Formation 57
J. Michael Denton
This chapter explores college students' sexual identity formation using concepts from feminism, intersectionality, poststructuralism, and queer theory.
6. Intersectional Perspectives on Gender and Gender Identity Development 71
Claire K. Robbins, Brian L. McGowan
The authors challenge normative ways of describing gender and gender identity of college students, focusing on intersectionality as a critical lens.
7. Critical Perspectives on Disability Identity 85
Edlyn Vallejo Pe˜ na, Lissa D. Stapleton, Lenore Malone Schaffer
This chapter reviews diversity among disabilities and encourages critical disability and intersectional approaches to conceptualizing disability identity.
8. Critical and Poststructural Perspectives on Self-Authorship 97
Elisa S. Abes, Ebelia Hernández
This chapter explores how systems of oppression challenge the meaning of development and self-authorship.
INDEX 109