Critical Thinking For Psychology: A Student Guide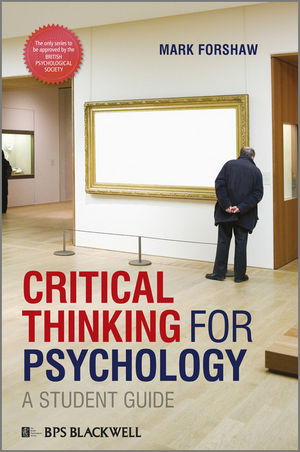 Critical Thinking For Psychology: A Student Guide
ISBN: 978-1-405-19117-3 May 2012 156 Pages
Description
Critical thinking is taught at all universities, often put forward by lecturers as the key skill that can most dramatically improve a student's understanding of a course and transform their writing.

 

It pervades research methods teaching, critical psychology, and a range of other core curriculum elements, in exactly the same way that critical thinking pervades

any

discipline, and indeed, life generally.

 

But what is it, exactly, and how can we apply it specifically to the field of psychology?

  

In his relaxed and accessible style, Mark Forshaw takes modern real-world examples from psychology and everyday life to lighten the learning of critical thinking, explaining what it entails, why it is important, and how it can be applied to this fascinating field of study.
Table of contents
Preface xiii
Acknowledgements xv
1. Getting Started on Critical Thinking 1
2. Logic and the Philosophy of Critical Thinking 5
3. Critical Thinking in the Wider World 19
4. Critical Thinking Inside Psychology 45
5. Putting Critical Thinking to Use: Getting Good Grades 87
6. Getting Fit for Critical Thinking 109
Concluding Remarks 119
Exercises in Critical Thinking 121
Checklist for Critical Thinking 123
Glossary 127
References 131
Further Reading 133
Index 135
Features
An accessible and engaging style that introduces new concepts to students at all levels of study

Essential tips on essay writing including how to construct an argument and how to incorporate the language of criticism

Real-world examples from students' writings illustrating common mistakes and the ways we can avoid them

Advice on what lecturers expect from their students, and how to interpret the feedback they give