Critical Trajectories: Culture, Society, Intellectuals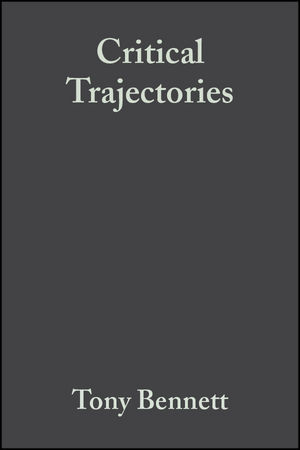 Critical Trajectories: Culture, Society, Intellectuals
ISBN: 978-1-405-15699-8 November 2007 Wiley-Blackwell 224 Pages
Description
Critical Trajectories: Culture, Society, Intellectuals
brings together for the first time writings from one of the leading figures in cultural studies -- Tony Bennett. The selections in the volume span the period from the late 1970s to the present, representing issues of enduring concern in Bennett's work over this period and throughout his wide-ranging intellectual career.


Charts the extensive influence of Bennett's thinking across the humanities and social sciences - from cultural history to museums and memory, and from Bond and popular culture to cultural policy and governance

Tackles some of the most important subjects in cultural studies, including aesthetics, textuality, the intellectual, and the role of cultural history

Includes a new introductory essay pinpointing Bennett's concerns in changing intellectual and political contexts

Cannot be combined with any other offers.
Original Price:$92.90
Purchased together:$69.68
save $23.22
Table of contents
Acknowledgements.
Introduction.
Part I: The literary and the aesthetic.
1. Severing the aesthetic connection.
2. Texts, readers and reading formations.
3. Figuring audiences and readers.
Part II: Culture, governance and the social.
4. Culture and governmentality.
5. Acting on the social: art, culture, and government.
Part III: Museums as civic machineries.
6. Archaeological autopsy: objectifying time and cultural governance.
7. Civic seeing: museums and the organisation of vision.
Part IV: Intellectuals, culture, politics.
8. Intellectuals, culture, policy: the technical, the practical and the critical.
9. The historical universal: the role of cultural value in the historical sociology of Pierre Bourdieu.
Selected Bibliography.
References.
Index
Reviews
"Critical Trajectories
provides an accessible and compelling snapshot of many of Tony Bennett's most important contributions to defining a Foucauldean practice of cultural studies. It is a valuable addition to any library of contemporary cultural studies!
Lawrence Grossberg, Morris Davis Distinguished Professor of Communication Studies and Cultural Studies,
Co-editor, Cultural Studies<!--end-->
"Bennett's writing is as original and serious as it is unafraid to take up bold, sometimes controversial points of view. This book provides an excellent overview of his pathbreaking work on culture, power and government." Ien Ang, Distinguished Professor of Cultural Studies. University of Western Sydney

"More than just another 'best of' collection of scholarly essays." M/C Reviews
What's New


Brings together for the first time writings by Tony Bennett, one of the leading figures in cultural studies

Charts the extensive influence of Bennett's thinking across the humanities and social sciences - from cultural history to museums and memory, and from Bond and popular culture to cultural policy and governance

Tackles some of the most important subjects in cultural studies, including aesthetics, textuality, the intellectual, and the role of cultural history

Covers the period from the late 1970s to 2005, representing issues of enduring concern in Bennett's work over this period and throughout his wide-ranging intellectual career

Includes a new introductory essay pinpointing Bennett's concerns in changing intellectual and political contexts