Critique and Conviction: Conversations with Francois Azouvi and Marc de Launay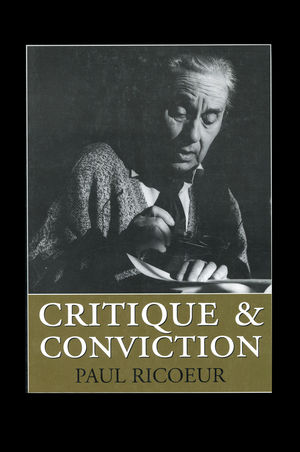 Critique and Conviction: Conversations with Francois Azouvi and Marc de Launay
ISBN: 978-0-745-62001-5 January 1998 Polity 208 Pages
Download Product Flyer
Download Product Flyer
Download Product Flyer is to download PDF in new tab. This is a dummy description. Download Product Flyer is to download PDF in new tab. This is a dummy description. Download Product Flyer is to download PDF in new tab. This is a dummy description. Download Product Flyer is to download PDF in new tab. This is a dummy description.
Description
In this new book Paul Ricoeur - one of the greatest contemporary philosophers - offers a personal reflection on his life and on the themes which have preoccupied him over the course of his career.
Ranging across topics in ethics and metaphysics, psychoanalysis and hermeneutics, history, politics and religion, Critique and Conviction provides unique insight into the ideas and sources of influence which have shaped Ricoeur's philosophical approach and defined his core concerns. Ricoeur also discusses in detail a number of topics about which he has not written extensively before, including questions of aesthetics and current affairs.
This remarkable testimony by one of the leading philosophers of the twentieth century will be of great interest to students of philosophy, theology, literary theory and social and political theory.
Table of contents
Note to the Reader.
1. From Valence to Nanterre.
2. France/United States: Two incomparable histories.
3. From psychoanalysis to the question of the self, or thirty years of philosophical work.
4. Politics and totalitarianism.
5. Duty of memory, duty of justice.
6. Education and secularism.
7. Biblical readings and meditations.
8. Aesthetic experience.
Notes.
Reviews
'François Azouvi and Marc de Launay have somehow persuaded Paul Ricoeur to reveal in his responses to their always sensitive but probing question more of himself both as a philosopher and as a man - and the two are evidently very much one and the same - than might have been imagined possible for one who, for all his fame and manifold public commitments, comes through as such a naturally modest and private person. One could ask for no better or clearer introduction to Ricoeur's many and diverse writings and to the preoccupations of his long and endlessly active life than this, his own retrospective account of them. Ricoeur is a thinker of exceptional intellectual openness, who even now in the ninth decade of his life, continues to ponder afresh the great central questions of what it is to be a human being. Even those whose first encounter with him comes as they read this book, can hardly fail to derive from it not only the stimulus to re-engage with these questions for themselves but, at the same time, a deep admiration for a thinker of extraordinary range, and even without knowing him in person, a genuinely affectionate respect for a remarkable man.'
Professor Alan Montefiore, Balliol College, Oxford
'Critique and Conviction is a strange genre - an autobiography unfolded in a series of thematically organized conversations. It succeeds brilliantly. The life recounted in these pages - with Ricoeur's breadth of philosophical, theological and political concerns, the positive ecumenical spirit with which he approaches every thinker who engages him, and the openness and directness of the conversational form - make these reflections an inspiration for the aspiring philosopher, and for the seasoned academic, a reminder of what a fully engaged intellectual life looks like. Ricoeur is unsurpassed in bridging the Anglo-American / Continental divide over a vast range of topics: psychoanalysis and the self, time, politics, justice, memory, responsibility, secularism, theology and aesthetic experience. As both a philosopher and a religious thinker, Ricoeur has always, as he says, walked on two legs. As he moves off the world stage on tiptoe, this book gives more than a glimpse of his exemplary achievement in marrying conviction and critique.' Professor David Wood, Department of Philosophy, Vanderbilt University
'It is one of the best introductions to Paul Ricoeur's work in its range, its coherence, its openness and its wise humanity.' Times Literary Supplement
Features
* Paul Ricoeur is one of the most important philosophers of the Twentieth Century. His many books have been translated into English and are well-known and widely read.
* This volume of extended interviews is a coherent test which covers the whole range of his career and work, from an autobiographical reflection on his life to a thematic reflection on his central intellectual concerns.
* The book is very accessible and enjoyable to read. It forms an excellent introduction to Ricoeur's work and should be widely reviewed.