Crochet Patterns For Dummies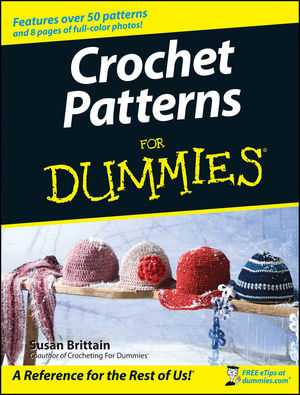 Crochet Patterns For Dummies
ISBN: 978-0-470-04555-8 October 2007 296 Pages
Description
Would you like to learn to crochet? Already know the basics, but would like to stretch your crocheting skills? From scarves and sweaters to hats and handbags, you can create beautiful, useful designs with ease using
Crochet Patterns For Dummies.
From choosing the right hooks and yarn and crocheting basic stitches to joining pieces together, this easy-to-follow guide will have you hooked in no time.
Our hands-on workbook gets you crocheting fashionable, fun designs in a focused, step-by-step manner. You get a review of the basic stitches and stitch combinations, along with a concise appendix containing easy-to-follow instructions for working these stitches. You'll find plenty of tips on changing colors and adding shape to your projects. Plus, you get full-color photos of every project—from potholders to afghans, belts to table runners, skirts to vests, and much more. You'll also discover how to:
Decipher crochet lingo
Make a gauge swatch, read a pattern, and understand garment sizing
Work with the most common stitches and stitch patterns
Crochet in the round or with color
Shape a design through increasing or decreasing stitches
Use new techniques like felting and working with wire
Crochet pictures and words using the filet crochet technique
There are also quick-and-easy designs that are great for kids to make, as well as handy hints on caring for your finished items. Featuring more than 50 fantastic patterns perfect for beginners or those wanting to take their skills to the next level, Crochet Patterns For Dummies is your one-stop guide to crocheting success!
Table of contents
Introduction.
Part I: Reinforcing Your Crochet Foundation.
Chapter 1: Gearing Up and Getting Started.
Chapter 2: Gauge and Garments: Sizing Facts and Figures.
Chapter 3: Sum and Substance: Reading a Pattern.
Chapter 4: Brushing Up on Stitch Basics.
Part II: Hook, Yarn, Action! Crocheting Simple Projects.
Chapter 5: Working in the First Dimension.
Chapter 6: Expanding and Diminishing Dimensions: Adding Shap.
Chapter 7: Going in Circles: Crocheting in the Round.
Chapter 8: Coloring It In.
Chapter 9: Mixing It Up: A Few Changes Make a Dramatic Difference.
Part III: Putting Your Skills to the Test.
Chapter 10: Seams Sew Easy: Joining Pieces Together.
Chapter 11: Finding the Loopholes and Creative Combinations.
Chapter 12: Sensational Sweaters.
Chapter 13: Timeless Techniques: Using the Afghan Stitch and Filet Crochet.
Chapter 14: Mixing Traditional Stitches with Contemporary Materials.
Part IV: The Part of Tens.
Chapter 15: Nearly Ten Projects That Take an Hour or So.
Chapter 16: Ten-Plus Tips for Caring for Your Crochet.
Chapter 17: Ten Kid-Friendly Projects.
Part V: Appendixes.
Appendix A: Crochet Stitches.
Appendix B: Yarn Supply Sources.
Index.