Crocheting For Dummies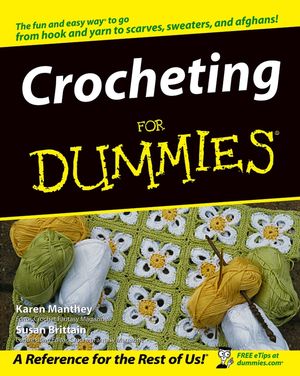 Crocheting For Dummies
ISBN: 978-0-764-54151-3
Jul 2004
368 pages
Product not available for purchase
Description
Are you hooked on the art of crochet? Not only can you make beautiful pieces of art and work on it virtually anywhere, crocheting also provides stress relief and is a great way to pass time without wasting it. It's a hobby that is highly addictive yet highly rewarding, though it may take a little bit more than a rainy afternoon and a ball of yarn to get started.

Whether you're a first-time crocheter or looking to expand your skills, Crocheting For Dummies shows you how to choose the right tools, create basic stitches, and finish off your work. This hands-on guide provides step-by-step instructions and full-color photos that make it fun and easy to master the basics as well as more advanced techniques. You'll have the tools you need to:
Create consistency with a gauge swatch
Decode crochet patterns, symbols, and diagrams
Stitch a double, a triple, a double triple, and a half double crochet
Increase and decrease stitches
Crochet in circles
Work with different colors
Stitch texture and advanced patterns
Create an Afghan stitch
Make new styles with filet crocheting
Join seams, sow buttons, add trims, and make pockets
Block and care for your work
Packed with instructions on different projects, as well as common mistakes and safety measures you should take to maximize your progress and fun, Crocheting For Dummies is the only guide you need to start creating beautiful designs in no time!
Introduction.
Part I: Crochet 101.
Chapter 1: Hooking into a Life of Crochet.
Chapter 2: Tools of the Trade.
Chapter 3: Creating Consistency with Gauge.
Chapter 4: Getting Down to Basics.
Part II: Basic Stitches and Techniques.
Chapter 5: Decoding Crochet Patterns.
Chapter 6: Long, Longer, Longest: Four Common Crochet Stitches.
Chapter 7: Shaping Up and Slimming Down: Increasing and Decreasing Stitches.
Chapter 8: I've Been Here Before: Crocheting in Circles.
Chapter 9: Crocheting in Technicolor.
Part III: Advanced Stitches and Techniques.
Chapter 10: Design 101: Crocheting Your First Sweater.
Chapter 11: Fancy Stitches That Steal the Show.
Chapter 12: Getting Creative: Working Stitches in Places You Never Thought Of.
Chapter 13: A Stitch in Time: The Afghan Stitch.
Chapter 14: Filet Crochet: Creating a New Style.
Part IV: Putting It All Together.
Chapter 15: When the Plan Comes Together: Joining Seams.
Chapter 16: Finishing Functionally: Borders, Buttons, and Pockets.
Chapter 17: It's All in the Details: Embellishing Crochet.
Chapter 18: Neatness Counts: Blocking and Caring for Your Work.
Part V: The Part of Tens.
Chapter 19: Top Ten (Plus One) Crochet Resources.
Chapter 20: Ten Do's and Don'ts of Crochet.
Chapter 21: Ten Variations on Crochet.
Appendix: Yarn Supply Sources.
Index.