Crossing the River with Dogs: Problem Solving for College Students, 3rd Edition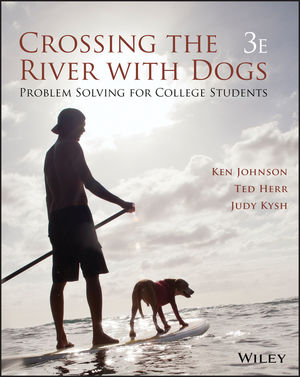 Crossing the River with Dogs: Problem Solving for College Students, 3rd Edition
ISBN: 978-1-119-27509-1
Feb 2018
Product not available for purchase
Description
Crossing the River with Dogs: Problem Solving for College Students, 3rd edition promotes the philosophy that students learn best by working in groups and the skills required for real workplace problem solving are those skills of collaboration. The text aims to improve students' writing, oral communication, and collaboration skills while teaching mathematical problem-solving strategies. Focusing entirely on problem solving and using issues relevant to college students for examples, the authors continue their approach of explaining classic as well as non-traditional strategies through dialogs among fictitious students. This text is appropriate for a problem solving, quantitative reasoning, liberal arts mathematics, mathematics for elementary teachers, or developmental mathematics course.
Rewrote the language in several problems to make the problems easier to understand, or to make the problem situation more modern.
Added new problems to Problem Set A in several chapters.
Added problems to the More Practice section in several chapters.
Replaced many Problem Set B problems with new problems.
Examples are solved as dialogues between fictitious students so students can see common errors and learn to avoid pitfalls.
Each chapter includes relevant examples of the strategy presented.
Chapters conclude with problem sets made up of three levels: A (routine), B (lengthy), and Classic Problems whose level can be determined by instructors.
Over a dozen distinct problem-solving strategies are developed in depth, including classic strategies as well as more contemporary strategies.
Icons appear to indicate examples, important information, and difficult material.