CrowdBureau: A Guide to the JOBS Act, Social Data and the Utilization of Crowdfunding to Benefit Investment Portfolios, + Website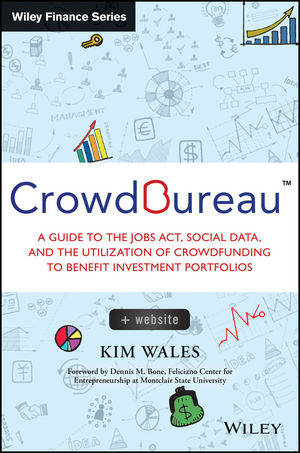 CrowdBureau: A Guide to the JOBS Act, Social Data and the Utilization of Crowdfunding to Benefit Investment Portfolios, + Website
ISBN: 978-1-118-93677-1
May 2016
336 pages
Product not available for purchase
Description
An accessible, low-risk approach to investing via a brand new alternative investment mechanism
CrowdBureau explains concepts of the rise of Crowd Finance in today's re-regulated and democratized global capital markets; how the JOBS Act is proving to be a game-changer for entrepreneurs and retail investors;and how it can benefit the portfolios of retail investors, private equity investors, angel investors, and venture capitalists while spurring innovative entrepreneur movements and social impact. Written by a securities (equity and debt) crowdfund investing industry pioneer, this book provides clear explanations of the fundamental concepts at work and the forces that will catalyze capital formation, foster transparency, and encourage market confidence. Crowd Finance, which includes Equity and Debt Crowdfunding, Peer-to Peer Lending (P2P), Liquid Alternative Funds, Pension Led Funding, and Seed Enterprise Investment Schemes, is in its infancy. The book argues that Crowdfund Investing can enable an equity income approach to investing for an easy, low-risk option that balances the issue of record low yields seen in other assets like bank deposits and bonds. Several brand name private equity and hedge funds, most notably AQR, Blackstone, and Apollo Global Management, have recognized the distribution opportunities and developed vehicles aimed squarely at retail clients, with minimum investments of as low as $2,500 in some cases.
The distribution opportunities for alternative vehicles targeting retail investors are potentially enormous. Approximately $19 trillion in assets is up for grabs from defined contribution (DC) pension schemes, individual retirement accounts, annuity reserves, broker-dealers, and registered investment advisers (RIAs).
Readers will gain a deeper understanding of alternative investments strategies with practical guidance backed by supporting theory and the experience of a practitioner at the forefront of this burgeoning Crowdfund Investing industry.
Over the last decade, the challenging economic and market background has led to lower returns and higher volatility across many asset classes. The 2012 JOBS Act—designed to bolster business growth and create jobs—reformed the Securities Act of 1933 and 1934 for small and medium-sized business owners and created an environment that supports crowdfund investment as an asset class. CrowdBureau is a comprehensive guide to the topic, providing a thorough explanation for those interested in building a more robust portfolio.
Understand the fundamental principles of Crowd Investing
Learn how the depressed economy and the rise of social computing affect investing
Understand the interplay between collective intelligence, deliberative democracy, and consumption
Discover the principles that will shape capital markets for the 21st century
For many people, the objective of investing is to achieve long-term capital growth with an acceptable level of risk, and securities-based crowdfunding was designed to do just that. For investors seeking an alternative approach to the market, CrowdBureau is a detailed guide to a new method of low-risk investing.
Foreword

Preface

Acknowledgments

Chapter 1: An Economic Paradigm Shift: The JOBS Act

Global Economic Statistics

Regulatory Reform

Provisions of the JOBS Act

Disclosure Obligations, Internal Controls and Other Limitations

Due Diligence

Uncertainty for Companies

International Regulations

Regulation D, Rule 506(c) Results

Summary

Key Takeaways

Addendum 1: Invest in Political Influence

Synopsis of the First Page of the 568 Pages of the Final Proposed Rules

Addendum 2: SEC Letters

Chapter 2: Capital Formation

Investment Freedom Leading to Economic Growth

A Disenfranchised Market Place: Women

Millennial Generation - "Gen Y"

The Gini Index: Measuring Income Distribution

Interpreting the Gini Index

Trends in Inequality

Inequality of Wealth

Capital Formation spurs Wealth Creation

Summary

Key Takeaways

Chapter 3: Savings and Investment

Investment Limit of $100,000 for Title III (Crowdfunding) deals

Do You Know Your Finances?

Pennies Start to Add up to Big Money

Are You Using Credit Cards?  Do You Have Other High Interest Debt?

Save for a Rainy Day

What Does It Mean to Invest

Gauge Your Risk Tolerance

Diversify Your Investments

Learn About Investment Options

Investment Choices

Five Questions to Ask Before You Invest

What is Risk?

Types of Risks

Are There Any Guarantees?

Understanding Fees

Summary

Key Takeaways

Chapter 4: Social Penetration Theory

Crowd + Source

Bounty and Spread

Social Penetration Theory

Social Engagement

Why social capital is important

Bridging, bonding and linking social capital

Summary

Key Takeaways

Exercises

Chapter 5: Web 3.0

Unbanked

Innovation?

New Use Patterns

Marginal Cost Society

Go Mobile Global

Africa

Haiti

IBM – Access to Credit within Minutes

Case Study #1: Bishop Company

Case Study #2: Gracious Home

Data versus Information

Rapid Shift to Knowledge

Summary

Key Takeaways

Chapter 6: Principle of Effective Demand

Information versus Big Data

Big Data Defined

CB ValuationTM: "what if" Approach

Economic Theory

Assumptions Behind a Perfectly Competitive Market

Summary

Key Takeaways

Chapter 7: Funding for Emerging Growth Companies

Venture Capital Market

European Venture Capital Fundraising Falls Significantly from 4Q 2013; Yearly Trend Continues

Equity Finance into Europe, VC backed Companies, by Country (1Q14)

Impact Investors

And Where Do the Banks Fall?

Marketplace Lending Landscape

U.S. Lenders

European Lenders

Marketplace Lending Investors

Crowd Funding Raised $96 Billion Industry by 2025

Crowdfunding Bitcoin

Crowdfunding: Corporate Mini Bonds

Seed Enterprise Investment Scheme and EIS

Pension Led Funds

Tips for Crowd Funding Success!

Summary

Key Takeaways

Chapter 8: Alpha in Social Data

Alternative Assets and Social Information

Numbers in Social Data

Wall Street and Social Data

How Social Information Influenced Wall Street

Regulatory Reform

Investors Already Unlocking Value of the Web

Bridgewater and Ray Dalio

Summary

Key Takeaways

Chapter 9: Retail Alternatives Phenomenon

Retail Consumer "Mom & Pop": an Investment Opportunity

What are "Retail Alternatives"?

The State of the Market and the Recent Growth Trends

Alternative Investment Choices

Summary

Key Takeaways

Chapter 10: The Big Idea

Fifth Mode of Transport

#JumpStartFund

Project Collaborators

#Hyperloop

Part of the Team

Summary

Key Takeaways

About the Author

About the Companion Website

Index