Crown and Nobility: England 1272-1461, 2nd Edition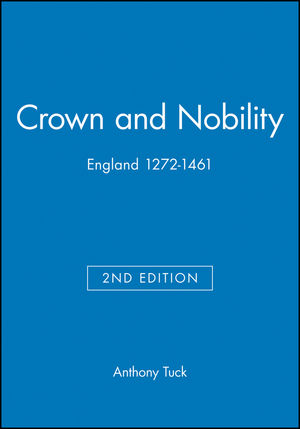 Crown and Nobility: England 1272-1461, 2nd Edition
ISBN: 978-0-631-21466-3
Dec 1999, Wiley-Blackwell
376 pages
Description
Crown and Nobility traces the development of the relationship between kings and nobles in late medieval England. It shows how the differing abilities and personalities of the late medieval English kings powerfully affected their relationship with the nobility.
List of Maps.
Preface to the Second Edition.
Preface to the First Edition.
A Note on Translations.
A Note on Money.
Introduction.
1. The Reign of Edward I, 1272-1307.
2. Edward II and Thomas of Lancaster, 1307-22.
3. The Abasement and Revival of the Monarchy, 1322-37.
4. The War with France, 1337-64.
5. Military Stalemate and Political Conflict, 1364-89.
6. Richard II and Henry of Lancaster, 1389-1413.
7. Henry V and the Dual Monarchy, 1413-35.
8. Lancaster and York, 1435-61.
Epilogue: New Perspectives, 1985-1999.
Notes.
Bibliography.
Genealogical Tables.
Index.
* Updated edition of a popular text, covering the complex period of 'The Wars of the Roses'.
* Reveals how the personalities of individual rulers affected the political development of late medieval England.
* Includes revisions to text and bibliography and a new epilogue discussing recent historiographical developments.