Crustacean Farming: Ranching and Culture, 2nd Edition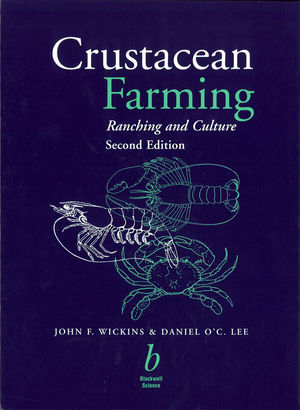 Crustacean Farming: Ranching and Culture, 2nd Edition
ISBN: 978-0-470-99507-5 April 2008 Wiley-Blackwell 464 Pages
Description
Crustacean Farming: Ranching and Culture, Second edition.
John F. Wickins and Daniel O'C Lee.
The second edition of an extremely well-received book, Crustacean Farming, deals with all cultivated crustaceans of commercial significance, shrimp, prawns, crayfish, lobsters, crabs, and spiny lobsters, and examines the criteria by which both the feasibility and desirability of farming proposals are assessed. The characteristics and production methods of farmed and candidate crustacean species are described in sufficient detail to enable areas of profitable involvement to be distinguished form other opportunities presenting only very high risks and possibilities for serious loss. Coverage extends right from broodstock acquisition and management through to the operation of hatcheries, nurseries and on-growing units to key aspects of processing and marketing. New to this second edition are ranching and re-stocking operations together with the culture of ornamental shrimp and small crustaceans used as live food in fish and shellfish hatcheries. The sections on crustacean diseases, genetics and nutrition have been extended in the light of recent research advances.
Examples of investment and operating costs of the different culture options are compared and an analysis of current trends in world crustacean markets is presented to assist in economic and financial appraisal.
Special consideration is given to the place of crustacean farming within the economics of developing nations in relation to social and environmental impact in order to promote awareness of the wider implications of global developments.
The consequences of recent research and technical developments are considered, together with concerns over genetic and animal welfare issues. Specific areas where further advances in technology are needed to improve the reliability or productivity of farming systems are highlighted. This important book is a vital tool and reference work for all those involved with crustacean farming worldwide.
Acknowledgements.
Introduction: History, Objectives, Current status, Advances and constraints.
Biology: Terminology, Disease, Genetics;.
Markets: Marketing crustaceans, World crustacean markets.
Candidates for cultivation: Location, Broodstock, Larvae, Post-larvae and juveniles, On-growing, Comparison of species.
On-growing options: Tropical climates, Warm temperate and Mediterranean climates, Temperate climates, Polyculture, Production of soft shelled crustaceans.
Hatchery supported fisheries, ranching and habitat modification.
Site selection: Country or region, Locality, Modifications to an existing facility.
Techniques: Species and groups: Penaeid shrimp, Macrobrachium.
Other caridean shrimps and prawns, Crayfish: USA, Europe, Australia, Clawed lobsters, Spiny lobsters, Crabs, Non-decapod crustaceans.
Techniques: General, Materials: Pond design and construction, Pond management, Water treatment methods, Water quality tolerance, Monitoring water quality, Humane slaughter, Food preparation and storage, Disease diagnosis, transmission, prevention and control, Genetics, Hatchery supported fisheries, ranching and habitat modification.
Project implementation and management: Conceptual phase, Validation phase, Detailed planning phase, Implementation phase, Food safety and HACCP, Management.
Economics: Finance, Investment appraisal, Risk, Intensification, Costs.
Impact of crustacean aquaculture: Social impact, Ecological impact, Environmental impact, Institutional interactions.
The future for Crustacean farming: Introduction; Disease Management; Domestication; Reproduction; Nutrition; Effluents and environmental impacts; Stock enhancement; Production technologies; Ornamental shrimp; Non-decapod crustaceans.
Appendix 1:Summary of biological data and examples of typical culture performance.
Appendix 2:Shrimp counts.
Appendix 3:Glossary. .
Index
"...the book is so much enlarged and improved, yet still retaining its accessability. This book is a "must-have" for anyone with an interest in Crustacea whether from biological or economic point of view."–Janet H Brown (
Aquaculture News
, April 2002)
"This fine book, which takes a global view, is absolutely up-to-date and gives a very detailed overview of the problems and most of their potential solutions. Anyone involved with investment in crustacean farming, or its management by government, would be foolish to make a move without first studying this very valuable contribution to the body of knowledge." (Professional Fisherman)
"In preparing a second edition of this excellent book... the authors have taken the opportunity not only to update it but also to radically broaden its scope... This edition... is worth every penny.... it is a 'must have' for everyone involved in crustacean aquaculture, even if they already own the first edition." (Aquaculture Research)
"This book overall is a monumental piece of work. It is replete with useful citations of other works... a great job of giving the big picture of world crustacean farming. Moreover, it would serve as a fine textbook at the college level."–Dr James W Avault Jr (Aquaculture Magazine, 2002)
* deals with all cultivated crustaceans of commercial significance
* examines the criteria by which both the feasiblity and desirability of farming proposals are assessed