Crying Shame: Metaculture, Modernity, and the Exaggerated Death of Lament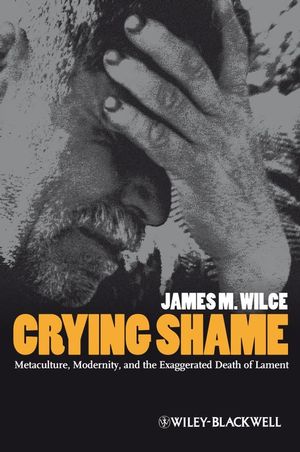 Crying Shame: Metaculture, Modernity, and the Exaggerated Death of Lament
ISBN: 978-1-444-30624-8
Mar 2009, Wiley-Blackwell
296 pages
Description
Building on ethnographic fieldwork and extensive historical evidence, Crying Shame analyzes lament across thousands of years and nearly every continent.
Explores the enduring power of lament: expressing grief through crying songs, often in a collective ritual context
Draws on the author's extensive ethnographic fieldwork, and unique long-term engagement and participation in the phenomenon
Offers a startling new perspective on the nature of modernity and postmodernity
An important addition to growing literature on cultural globalization
Acknowledgments.
Preface.
1 Introduction.
PART I LOCATING LAMENT AS OBJECT.
Introduction.
2 For Crying Out Loud: What Is Lament Anyway?
3 Lament and Emotion.
4 Antiquity, Metaculture, and the Control of Lament.
PART II LOSING LAMENT: MODERNITY AS LOSS.
Introduction.
5 Cultural Amnesia and the Objectification of Lament in Bangladesh.
6 Modern Transformations.
7 How Shame Spreads in Modernity.
8 Crying Backward: Primitivist Representations of Lament.
PART III REVIVING LAMENT: LAMENT AS KEY TROPE OF MODERNITY.
Introduction.
9 Mourning Becomes the Electron's Age: Lamenting Modernity(ies).
10 Lament's (Post)Modern Vertigo: Floating in a Deterritorialized Media Sea.
11 Lament in a Postmodern World of "Revivals".
12 Conclusion.
Notes.
References.
Index.
"James Wilce's new book is a stunning attempt to present lament as it currently exists cross-culturally." (Journal of Folklore Research, 21 September 2011)
Explores the enduring power of lament: expressing grief through crying songs, often in a collective ritual context
Analyzes lament across thousands of years and nearly every continent
Draws on the author's extensive ethnographic fieldwork, and unique long-term engagement and participation in the phenomenon
Offers a startling new perspective on the nature of modernity and postmodernity
An important addition to growing literature on cultural globalization