Cryptography for Visual Basic: A Programmer's Guide to the Microsoft CryptoAPI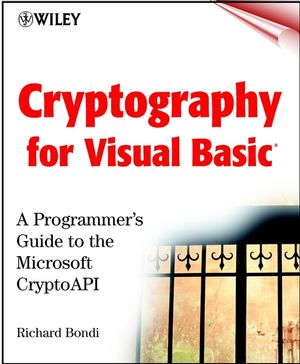 Cryptography for Visual Basic: A Programmer's Guide to the Microsoft CryptoAPI
ISBN: 978-0-471-38189-1
Sep 2000
480 pages
Product not available for purchase
Description
"This is essential reading for anyone who needs to understand Microsoft's CryptoAPI,its strengths and its limitations."-Bruce Schneier, author of Applied Cryptography and CTO of Counterpane Internet Security, Inc.

With billions of dollars at stake,e-businesses must take the necessary steps to ensure privacy and protection for customer data. Microsoft's CryptoAPI provides Visual Basic programmers with strong cryptography to keep this data safe, but its internals have been a mystery until now. This book guides you through the process of accessing the powerful but tricky routines of Microsoft's cryptographic libraries. You'll find an in-depth introduction to modern cryptography and learn how to build cryptographic "modules" (COM objects) that can be used by any Visual Basic program. Best of all, the source code is included under an Open Source license so that you are free to use, modify, and distribute it, even commercially, without paying any fees. You can help enhance the code as part of the Open Source community. Providing much-needed insight on Microsoft's cryptography, this book will help you:
* Learn how modern cryptography works
* Find out how the Base Functions of the CryptoAPI work
* Discover how to call the API from Visual Basic
* Uncover deep Visual Basic tricks to write a powerful error handler
* Learn how to write the WCCO (Wiley CryptoAPI COM Objects) COM wrappers for the CryptoAPI
* Utilize several quality assurance tests for the WCCO

The CD-ROM includes:
* WCCO 1.0 Source Code and its Wiley Open Source License
* WCCO 1.0 Interface Guide and its Open Publication License
* WCCO Test Code
* CryptoAPI Container Manager
* Regasaurus program

Visit our Web site at www.wiley.com/compbooks/
Everything a VB Programmer Needs to Know about Cryptography.

An Overview of the CryptoAPI.

Calling the CryptoAPI from Visual Basic.

Advanced Visual Basic Tricks.

An Object Model for the CryptoAPI.

The Provider and the Container Objects.

The Key Objects.

Hashing and Signing with the WCCO Objects.

Encryption and the Messagetext Object.

Testing the Objects.

Key Management and Data Security.

Philosophy, Public Policy, the Law, and Cryptography.

Appendices.

Glossary.

Bibliography.

Wiley Open Source License.

Index.