Crystallization Processes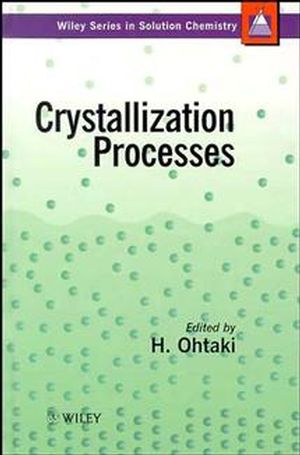 Crystallization Processes
ISBN: 978-0-471-97396-6 December 1997 220 Pages
Description
Understanding the mechanisms of crystallization processes on themolecular level is an essential step in the control of theformation of crystals. These crystals may be a desirable solidproduct or an undesirable precipitate. Crystallization Processes
* covers the theory, research, applications and control ofcrystallization processes from a homogeneous liquid to a solidphase.
* considers the behaviour of ions and molecules in homogeneoussupersaturated solutions and also in liquid metals and ionicmelts.
* discusses recent work on ionic solvation desolvation phenomena,association of ions and molecules in solution and precipitation anddissolution of crystals.
* includes the mechanism of crystallization of calcium carbonateand other simple inorganic electrolytes, amino acids, lipids andproteins.
Crystallization Processes is a valuable source of information forall who are interested in the behaviour of solutions especially thetheoretical and practical aspects of crystallization phenomena.These include physical, inorganic and organic chemists, materialsscientists and chemical engineers who wish to optimize industrialprocesses. The Wiley Series in Solution Chemistry fills theincreasing need to present authoritative, comprehensive and fullyup-to-date accounts of the many aspects of solution chemistry.Internationally recognized experts from research or teachinginstitutions in various countries are invited to contribute to theseries.
Table of contents
Crystallization of Electrolytes from the Viewpoint of CoordinationChemistry (K. Waizumi, et al.).

Mechanisms of Crystal Growth of Ionic Crystals in Solution:Formation, Transformation, and Growth Inhibition of CalciumCarbonates (K. Sawada).

Crystal Growth of Alkali Salts from Concentrated Aqueous Solutions(K. Shigematsu).

Molecular Aspects of the Polymorphic Crystallization of Amino Acidsand Lipids (M. Kitamura, et al.).

Protein Crystallization at the Initial Stage--Studies onSupersaturated Solutions (M. Ataka).

MD Simulations of Crystal Growth from Liquid Metals, AqueousSolutions and Ionic Melts (I. Okada & H. Ohtaki).