Culinary Nutrition for Food Professionals, 2nd Edition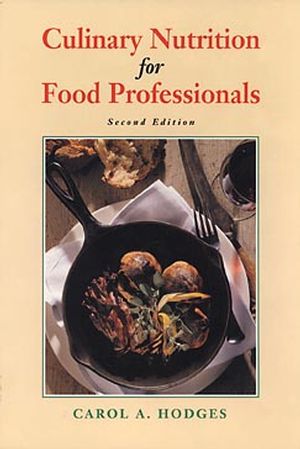 Culinary Nutrition for Food Professionals, 2nd Edition
ISBN: 978-0-471-28607-3 March 1994 320 Pages
Download Product Flyer
Download Product Flyer
Download Product Flyer is to download PDF in new tab. This is a dummy description. Download Product Flyer is to download PDF in new tab. This is a dummy description. Download Product Flyer is to download PDF in new tab. This is a dummy description. Download Product Flyer is to download PDF in new tab. This is a dummy description.
Description
In today's market, a large percentage of food consumed is eaten or purchased away from home which has created an increasing demand for healthful options across all segments of the food industry. Now, more than ever, your customers realize that diet plays an important role in maintaining good health. The completely revised, second edition of Culinary Nutrition for Food Professionals gives you all of the information you need to balance taste and health while maintaining your unique niche in today's competitive marketplace. This book is oriented toward nutrition applications to foodservice including:
food science and nutrition science
current dietary recommendations
new food labeling regulations
product selection
menu planning for specific clientele and operational segments
recipe development, nutrition analysis, and cooking techniques
merchandising healthful options in the menu mix
staff training
agricultural, industry and current food safety issues
marketing
In addition, a one-of-a-kind chapter addresses fitness and diet needs for food professionals. It is designed as a guide for maintaining peak productivity at the work site. Culinary Nutrition for Food Professionals is recommended by the Educational Institute of the American Culinary Federation and has been endorsed by educators and other food professionals as a key textbook for both culinary and hospitality management programs. In addition, the book is a vital and current reference for foodservice managers, chefs, caterers, food product developers and retailers, restaurateurs, food writers, and health professionals. It is also a practical reference for individuals who wish to learn the professional approach to cooking for taste and health. Food professionals and educators are saying this about the revised second edition of Culinary Nutrition for Food Professionals: "This book will certainly be useful to all of us." —Julia Child, Cambridge, MA (From the Foreword) "This book should be part of any professional chef's library. It is current and on target with the needs of the food service industry as it meets and adapts to the consciousness of today's nutritionally aware customers. This book will also be an excellent tool to meet the needs of our young culinarians entering the profession. It is written in a style which is easy for the professional chef to follow." —Noel Cullen, EdD, CMC, AAC, Chairman, American Culinary Federation Educational Institute; and Associate Professor, School of Hospitality Administration, Boston University "In these times when the American public is examining their diet so closely, it is more important than ever that cooks and chefs move to increase both their knowledge of nutrition and its implications. Carol Hodges' book is a comprehensible yet accessible look at the many aspects of diet and nutrition. It is an outstanding book for anyone who works with food to increase their education in a subject that is on the front line of the cooking profession." —Chris Schlesinger, Chef-Owner, East Coast Grill and The Blue Room, Cambridge, MA "To say I am impressed with the content of the book would be an understatement. It is, in my opinion, right on target with what every foodservice professional needs to know to adapt his or her recipes and menus to meet the changing needs of today's customers. It is written at the level and in the vocabulary of a chef, foodservice manager, and other foodservice professionals." —Jeff Larson, CEC, Dean of Instruction, Northeast Metro Technical College, St. Paul, MN (From the Foreword) Special Note: This book is recommended by the American Culinary Federation and the international Association of Culinary professionals for meeting certification requirement
Table of contents
SCIENTIFIC ASPECTS OF NUTRITION.

Nutrients, Their Characteristics, Physiological Roles, andImportance in Food Preparation.

Impact Food and Nutrition on Human Performance.

LIFE-STYLE IMPACT ON FOOD PRODUCTION AND CONSUMPTION.

Nutrition and the American Diet.

Food Choice Considerations for Specific Groups and Places.

Industry, Agriculture, Government: Influence on Food andNutrition--Products and Policies.

NUTRITION APPLICATIONS IN FOOD SERVICE.

Food Consumption Trends and Marketing Issues.

Developing Healthful Menu Alternatives.

Nutritional Aspects of Recipe Development.

Staff Training.

Physiological Stress at the Worksite: Nutrition and FitnessRecommendations for Food Preparation Workers.

Appendices.

Index.