Cult Cinema: An Introduction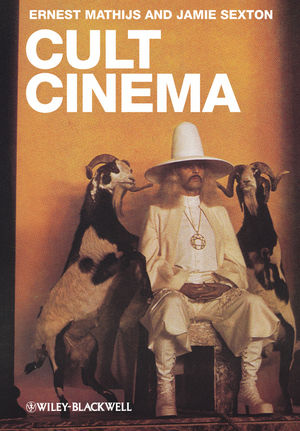 Cult Cinema: An Introduction
ISBN: 978-1-405-17374-2 April 2011 Wiley-Blackwell 312 Pages
Description
Cult Cinema: an Introduction presents the first in-depth academic examination of all aspects of the field of cult cinema, including audiences, genres, and theoretical perspectives.
Represents the first exhaustive introduction to cult cinema
Offers a scholarly treatment of a hotly contested topic at the center of current academic debate
Covers audience reactions, aesthetics, genres, theories of cult cinema, as well as historical insights into the topic
List of Figures.
Acknowledgments.
Introduction.
Part I Receptions and Debates.
1 Cult Reception Contexts.
2 The Cult Cinema Marketplace.
3 Prestige, Awards, and Festivals.
4 Censorship and Criticism.
5 Fandom and Subculture.
6 The Cult Auteur.
7 Cult Stardom.
8 Camp and Paracinema.
9 Transgression and Freakery.
10 Gender and Sexuality.
11 Transnationalism and Orientalism.
12 Religion and Utopia.
Part II Themes and Genres.
13 Exploitation and B Movies.
14 Underground and Avant-garde Cinema.
15 Cult Cinema and Drugs.
16 Cult Cinema and Music.
17 Classical Hollywood Cults.
18 Cult Horror Cinema.
19 Cult Science Fiction Cinema.
20 Cult Blockbusters.
21 Intertextuality and Irony.
22 Meta-cult.
Filmography.
References.
Credits and Sources.
Index.
Introduces the major areas of debate circulating around cult movies: reception, aesthetics, and politics/theory
Explores prominent cult topics, like fandom, subculture, taste, auteurs, stars, fanzines, and festivals; each topic suggesting further reading and noting related films
Includes numerous case studies of (in) famous cult movies like The Rocky Horror Picture Show, Donnie Darko, Casablanca, Eraserhead, and The Lord of the Rings
Offers exhaustive bibliography and a glossary of cult-related language