Cultural Agents and Creative Arts: New Directions for Youth Development, Number 125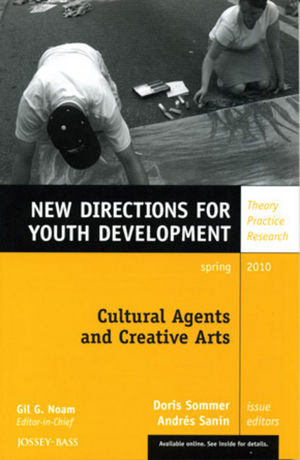 Cultural Agents and Creative Arts: New Directions for Youth Development, Number 125
ISBN: 978-0-470-63384-7 May 2010 Jossey-Bass 168 Pages
Description
When youth engage in creative arts, they become authors of new works and experience the possibilities of exercising the power of their own creative and critical thinking. Art is ?symbolic destruction?; it provides constructive outlets for normal aggressivity and vehicles for exploring the world. More than modes of expression, artistic media are also engaging modes of interpretation and learning. The cultural agents whom we feature here are models who can inspire more instructors and facilitators to promote youth development by sharing particular artistic training and anticipating rigorous results.

The goal of this volume is to inspire practitioners, advocates, policy professionals, and researchers interested in youth development through exemplary cases of art that has stimulated positive change in youth and in their general communities. Each case proposes novel scholarly and artistic projects for nonviolent social change, with the belief that creativity is vital to the health of democracies and that it is critical to the development of ethical, socially engaged, and resourceful citizens among our youth.

This is the 125th issue of New Directions for Youth Development the Jossey-Bass quarterly report series dedicated to bringing together everyone concerned with helping young people, including scholars, practitioners, and people from different disciplines and professions. The result is a unique resource presenting thoughtful, multi-faceted approaches to helping our youth develop into responsible, stable, well-rounded citizens.
Issue Editors' Notes (
Doris Sommer).
Executive Summary.
1. More carrots than sticks: Antanas Mockus's civic culture policy in Bogotá (Felipe Cala Buendía)
In 1995, Bogotá was one of the most violent and dangerous cities in the world. That was when Mayor Antanas Mockus decided to use creativity and
the arts to transform the city and reinforce civic culture.
2. Voicing differences: Indigenous and urban radio in Argentina, Chile, and Nigeria (Luis E. Cárcamo-Huechante, Nicole Delia Legnani)
As a response to the risks of assimilation and social dispersion, indigenous cultures use radio as a way to maintain their languages, educate and unite
their people, and re-create traditional culture.
3. Silent gains: Instituto Buena Bista and art as catalyst among Curaçaoan youth (Iberia Pérez González)
The author presents a successful case of how art education in places with precarious cultural investment can create a space to experience freedom, improve social ties and self-assurance, and strengthen civic and democratic values among youth.
4. The Beat of Boyle Street: Empowering Aboriginal youth through music making (Elaine L. Wang)
This article explores how a hip-hop music-making program in Edmonton, Canada, reengages at-risk Aboriginal youth in school, helping them to establish a healthy sense of self and a space to express their identities and emotions.
5. Thinking creatively is thinking critically (Elizabeth Gruenfeld)
Through an arts-based approach, children play, rediscover literature, and develop critical higher-order thinking. An exploration of The Paper Picker Press (PPP) program in Boston helps students at a time of significant shortfalls in the U.S. education system.
6. Aula Verde: Art as experience in community-based environmental education (Marco A. Abarca)
A Puerto Rican community of parolees and probationers, led by the lawyer Marco A. Abarca, transformed a mosquito-infested area into a "classroom" where children have workshops on urban ecology.
7. Fill in the blank: Culture jamming and the advertising of agency (Carrie Lambert-Beatty)
This review examines billboard liberation and some other artistic projects that develop the idea of talking back to or over advertising in a playful and youthful way.
8. Technepolitics: Who has a stake in the making of an American identity? (Christina Suszynski Green)
Following the example of Taller Alacrán, a workshop from the Puerto Rican maestro Antonio Martorell, the author explores the studio workshop model as a supplement or alternative to public school arts education models.
9. Music as social medicine: Two perspectives on the West-Eastern Divan Orchestra (David M. Washington, Devin G. Beecher)
A medical student and a musician provide their reflections about the role of music as social therapy and space for cultural communication after their one-week involvement with the West-Eastern Divan Orchestra at its summer institute.
10. Boal's Theater of the Oppressed and how to derail real-life tragedies with imagination (Maria Tereza Schaedler)
During dictatorship in Brazil, Augusto Boal created a process whereby audience members could stop a performance and suggest different actions for the actors. Maria Tereza Schaedler studied with him. In this article, she shares her experience as a practicing artist and educator of youth and adult immigrants, using Boal's methods.
Index.