Cultural Bodies: Ethnography and Theory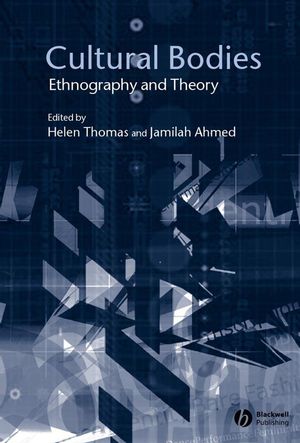 Cultural Bodies: Ethnography and Theory
ISBN: 978-0-631-22585-0 December 2003 Wiley-Blackwell 328 Pages
Description
Cultural Bodies: Ethnography and Theory
is a unique collection that integrates two increasingly key areas of social and cultural research: the body and ethnography.
Breaks new ground in an area of study that continues to be a central theme of debate and research across the humanities and social sciences
Draws on ethnography as a useful means of exploring our everyday social and cultural environments
Constitutes an important step in developing two key areas of study, the body and ethnography, and the relationship between them
Brings together an international and multi-disciplinary team of scholars
Table of contents
Acknowledgements.
Notes on Contributors.
Introduction.
Part I: Ethnography:.
1. Inscriptions of Love: Les Back (Goldsmiths College).
2. From Catwalk to Catalogue: Male Fashion Models, Masculinity and Identity: Joan Entwistle (University of Essex).
3. Reading Racialized Bodies: Learning to See Difference: Suki Ali (Goldsmiths College).
4. Narratives of Embodiment: Body, Aging and Career in Royal Ballet Dancers: Steven P. Wainwright and Bryan S. Turner (King's College; University of Cambridge).
Part II: Ethnography and Theory:.
5. Being a Body in a Cultural Way: Understanding the Cultural in the Embodiment of Dance: Sally Ann Allen Ness (University of California, Riverside).
6. Bare Life: Nigel Thrift (University of Bristol).
7. Lolo's Breasts, Cyborgism and a Wooden Christ: Simon Shepherd (Central School).
8. Talking Back to Neuro-reductionism: Emily Martin (New York University).
Part III: Theory:.
9. Eating for a Living: A Rhizo-ethology of Bodies: Elspeth Probyn (University of Sydney).
10. Health and the Holy in the Afro Brazilian Candomblé: Thomas Csordas (Case Western Reserve University).
11. Here Comes the Sun: Shedding Light on the Cultural Body: Simon Carter and Mike Michael (London School of Hygiene and Tropical Medicine; Goldsmiths College).
12. Reaching the Body: Future Directions: Jamilah Ahmed.
Index
Reviews
"An interdisciplinary text that offers cutting-edge theoretical and methodological means for analyzing, understanding, and imagining how the body materializes in cultural historical context and practice."
Heidi Nast, DePaul University
<!--end-->
"Bringing together some of the most challenging contemporary research, this theoretical, empirical, experimental work presents a unique interdisciplinary understanding of how the body speaks, moves and interacts. It is fascinating, making visible some of the unknown and unseen parts and wholes of the body by exploring the materiality of physicality." Beverley Skeggs, University of Manchester
Features
Breaks new ground in an area of study that continues to be a central theme of debate and research across the humanities and social sciences
Draws on ethnography as a useful means of exploring our everyday social and cultural environments
Constitutes an important step in developing two key areas of study, the body and ethnography, and the relationship between them
Brings together an international and multi-disciplinary team of scholars