Cultural Materialism: Theory and Practice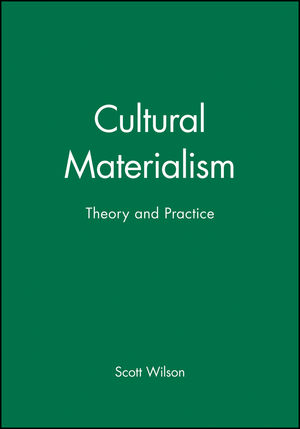 Cultural Materialism: Theory and Practice
ISBN: 978-0-631-18533-8
Nov 1995, Wiley-Blackwell
296 pages
Description
In recent years the left has transformed traditional approaches to literature and culture. Critical movements such as Cultural Materialism and New Historicism have succeeded to the point where they now constitute the new academic order.
Scott Wilson explains and demonstrates the power of these modes of critical enquiry and explores their limitations. His book provides a forceful critical engagement with major figures in the field - Francis Barker, Catherine Belsey, Jonathan Dollimore, Terry Eagleton, Jonathan Goldberg, Stephen Greenblatt, Alan Sinfield. He also shows how cultural materialism is applied in practice
Preface.
Part One: Cultural Materialism:.
1. Introduction.
2. Culture and Materialism.
3. Stephen Greenblatt and New Historicism.
Part Two: Value:.
4. Shakespeare.
5. Usure in The Merchant of Venice.
Part Three: History:.
6. The Four Fundamental Discourses of History.
7. Enjoying the Nature of Britain in King Lear.
8. General Economy and The Changeling.
Part Four: Community:.
9. The Utopian Orgy.
10. Queer Gifts.
11. Oscar Wilde and the Love of the Impossible.
12. Conclusion.
Bibliography.
Index.
"Wilson focuses each of the three large parts of this book on one of three philosophical areas central to cultural materialism: value, history, and community. He provides excellent theoretical accounts of these areas. However, what makes this book more than an introduction is the author's decision to make each of these three abstract discussions a preface to textual analysis (chiefly of texts by Shakespeare, Middleton and Rowley, and Wilde). Through his textual analysis, he concretely demonstrates many of the strengths and weaknesses of cultural materialism and also suggests the power of his own brand of cultural materialism, which is deeply infused by Foucault, Benjamin, Lacan and Bataille. The book thereby becomes, elegantly, not only a brilliant account of cultural materialism but also a major contribution to its future." (I) Choice (D)
Wilson explores the theory and shows how it is applied in practice through readings of key texts
Addresses current controversial topics of Cultural Materialism/New Historicism
The author, who describes himself as a Cultural Materialist, takes a controversial position in these debates.