Cultural Sociology in Practice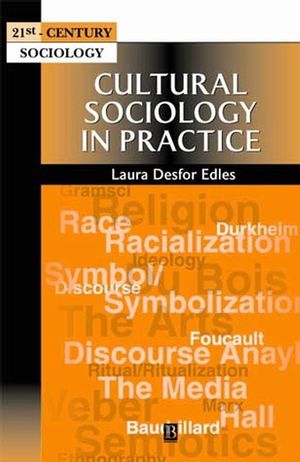 Cultural Sociology in Practice
ISBN: 978-0-631-21089-4
Feb 2002, Wiley-Blackwell
276 pages
Description
Cultural Sociology in Practice is a concise introduction to the burgeoning new field of cultural sociology. Using straightforward language and popular examples, the book sorts out the various definitions of the word "culture" in a sociological context.
List of Figures and Tables.
Acknowledgments.
1. Introduction: What is Culture and How Does Culture Work?.
Part I: Culture and Society:.
2. Religion and Ideology: Systems of Meaning in the Modern (and Postmodern) World.
3. The Media and Popular Culture.
4. Race and Representation.
Part II: Cultural Methodology: Getting a Handle on Culture:.
5. Naturalistic Inquiry: Ethnography, Ethnomethodology, and Dramaturgical Research.
6. Discourse Analysis and Audience/Reception Research: Constructing and Deconstructing Texts, Talk, and Meaning.
7. Structure, Agency, and "Comprehensive" Cultural Sociology.
References.
Index.
"
Cultural Sociology in Practice
is a shockingly good book. Edles achieves the almost impossible task, a highly accessible book for students that provides a powerful and sophisticated disciplinary statement for their teachers. This is a wide-ranging survey of the vast and surging new field of cultural sociology. It is also a deep and penetrating theoretical and methodological argument in its own right. Moreover, Edles does not just write about the work of others; she provides numerous and compact cultural-sociological studies of her own. Filled with wisdom, fairness, and creativity, this is one of the very best statements of cultural sociology ever written."
Jeffrey Alexander, University of California at Los Angeles
<!--end-->
"Cultural Sociology in Practice brightly illuminates the practices of studying culture in all of its forms for readers seeking a map of the field. Laura Desfor Edles writes intelligent, critical, and lucid prose as she explores the specifically sociological chartings of such cultural phenomena as religion, race, and the mass media. An eminently useful survey." Robin Wagner-Pacifici, Swarthmore College


Presents a concise, accessible introduction to the filed of cultural sociology.


Provides excellent empirical examples of cultural sociology in practice.


Covers both the theoretical bases and methodology of current research.