Cultural Studies: A Practical Introduction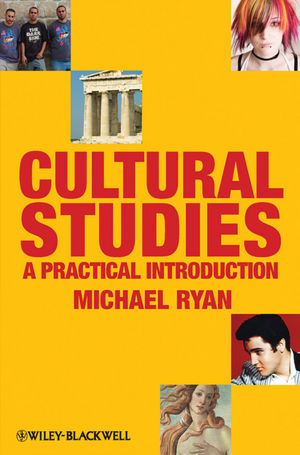 Cultural Studies: A Practical Introduction
ISBN: 978-1-405-17050-5 March 2010 Wiley-Blackwell 216 Pages
Description
This hands-on survey introduces students to the diverse fields that comprise cultural studies, from visual culture to popular music and new media. It can be used as a standalone text or is the perfect companion volume to Ryan's
Cultural Studies: An Anthology
.
Provides a comprehensive overview of the field, from cyberculture and digital media to fashion and new formulations of gender identity
Includes student exercises and activities for each chapter
Teaches cultural analysis through practical examples and application
Gives students across disciplines the tools to become practitioners of Cultural Studies and active cultural analysts  
The perfect companion volume to Ryan's Cultural Studies Anthology (2008)
Table of contents
Preface.
Acknowledgments.
1. Policy and Industry.
2. Place, Space, and Geography.
3. Gender and Sexuality.
4. Ideologies.
5. Rhetoric.
6. Ethnicity.
7. Identity, Lifestyle, and Subculture.
8. Consumer Culture and Fashion Studies.
9. Music.
10. Media Studies.
11. Visual Culture.
12. Audience, Performance, and Celebrity.
13. Bodies and Things.
14. Transnationality, Globalization, and Postcoloniality.
Index.
Features
Provides a comprehensive overview of the field, from cyberculture and digital media to fashion and new formulations of gender identity
Includes student exercises and activities for each chapter
Teaches cultural analysis through practical examples and application
Gives students across disciplines the tools to become practitioners of Cultural Studies and active cultural analysts  
The perfect companion volume to Ryan's Cultural Studies Anthology (2008)