Cultural Theory: An Introduction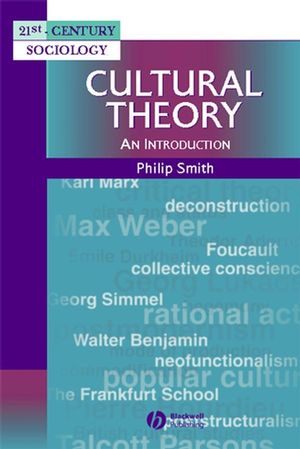 Cultural Theory: An Introduction
ISBN: 978-0-631-21175-4
Feb 2001, Wiley-Blackwell
280 pages
Description
Cultural Theory: An Introduction is a concise, accessible introduction to a complex field. Philip Smith provides a balanced, wide-ranging overview of contemporary cultural theory, covering the major thinkers and key concepts that have appeared and developed over the last century. The book has an abundance of special features for students, with summaries, biographical notes, suggestions for further reading, and cross-referencing. This book is an ideal guide for any student or researcher with an interest in the theoretical study of culture and society.
About this Book.
Preface -- What is Culture? What is Cultural Theory?.
1. Culture in Classical Social Theory.
2. Culture and Social Integration in the Work of Talcott Parsons.
3. Culture as Ideology in Western Marxism.
4. Culture as Action in Symbolic Interactionism, Phenomenology, and Ethnomethodology.
5. The Durkheimians: Ritual, Classification, and the Sacred.
6. Structuralism and the Semiotic Analysis of Culture.
7. The Poststructural Turn.
8. Culture, Structure, and Agency: Three Attempts at Synthesis.
9. British Cultural Studies.
10. The Production and Reception of Culture.
11. Culture as Text: Narrative and Hermeneutics.
12. Psychoanalytic Approaches to Culture and the Self.
13. The Cultural Analysis of Postmodernism and Postmodernity.
14. Postmodern and Poststructural Critical Theory.
References.
"This is the best introductory survey of cultural theories I have read." --
Christian Smith, University of North Carolina at Chapel Hill
<!--end-->

"I cannot conceive of a better introduction to a century of cultural theory. Smith gives cultural theory life and brings it down to earth, where it belongs." Barry Schwartz, University of Georgia

"Philip Smith has written the Zagat guide not just to sociology of culture and cultural sociology, but of cultural theory in the grandest sense. This will be a great introduction for students and a cheat sheet for more than a few professors. Bravo!" Roger Friedland, University of California at Santa Barbara

"This engaging book deftly maps the important theoretical traditions in the field of cultural analysis, with special attention to the leading thinkers. Philip Smith's lucid writing and comprehensive scope will be of great value to students and scholars as they seek to orient themselves in the field and identify the major concepts." Robin Wagner-Pacifici, Swarthmore College

"Being a remarkable practitioner in the domain of cultural theory, Philip Smith adopts a powerful stance in his far-reaching approach of the genealogy of this domain." Laurent Thévenot, Ecole des Hautes Etudes, Paris

".Smith has produced a very useful and informative introduction to a broad variety of theories and culture" Choice
Provides a highly accessible introduction to the complex issues and thinkers in cultural theory.

Covers a wide range of theoretical perspectives developed over the past century.

Includes extensive pedagogy, with summaries, biographical notes, suggestions for further reading, and heavy cross-referencing.