Culture and Health: Applying Medical Anthropology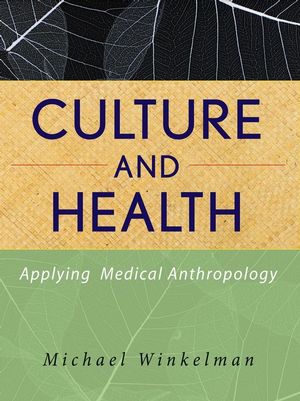 Culture and Health: Applying Medical Anthropology
ISBN: 978-0-470-46261-4
Dec 2008, Jossey-Bass
512 pages
Description
Culture and Health offers an overview of different areas of culture and health, building on foundations of medical anthropology and health behavior theory. It shows how to address the challenges of cross-cultural medicine through interdisciplinary cultural-ecological models and personal and institutional developmental approaches to cross-cultural adaptation and competency. The book addresses the perspectives of clinically applied anthropology, trans-cultural psychiatry and the medical ecology, critical medical anthropology and symbolic paradigms as frameworks for enhanced comprehension of health and the medical encounter. Includes cultural case studies, applied vignettes, and self-assessments.
Figures, Tables, and Exhibits.
Special Features.
Preface.
Medical Anthropology's Perspectives.
Chapter Overviews.
Special Features of the Text.
Dedication.
The Author.
Acknowledgments.
ONE: APPLIED MEDICAL ANTHROPOLOGY AND HEALTH CARE.
Culture and Health.
Culture, Ethnomedicines, and Biomedicine.
Cultural Competence in the Health Professions.
Concepts of Health.
Systems Approaches to Health.
Chapter Summary.
TWO: DISEASE, ILLNESS, SICKNESS, AND THE SICK ROLE.
Experience of Maladies.
Biomedical Assumptions About Disease.
Social Models of Maladies and Diagnoses.
Illness and Sickness Accounts.
The Sick Role and Sickness Career.
AIDS as Disease, Sickness, and Illness.
Health Beliefs and Explanatory Models.
Chapter Summary.
THREE: CULTURAL COMPETENCE IN HEALTH CARE.
Cross-Cultural Adaptations in Health Care.
Cultural Competence.
Anthropological Perspectives on Cross-Cultural Adaptation.
Concepts of Culture.
Interpersonal Skills for Intercultural Relations.
Specialty Cross-Cultural Applications of Medical Anthropology.
Using Culture to Care for Patients and Providers.
Chapter Summary.
FOUR: CULTURAL SYSTEMS MODELS.
Cultural Models for Health Assessment.
Cultural Systems Approaches to Health.
Cultural Infrastructure, Structure, and Superstructure.
Infrastructure.
Family Infl uences on Health and Development.
Understanding Worldview and Symbolic Resources.
Community Health Assessment.
Rapid Assessment, Response, and Evaluation (RARE).
Chapter Summary.
FIVE: ETHNOMEDICAL SYSTEMS AND HEALTH CARE SECTORS.
Popular, Folk, and Professional Health Care Sectors.
Popular-Sector Health Resources.
Folk Sectors and Ethnomedicines.
Professional Healers.
Chapter Summary.
SIX: TRANSCULTURAL PSYCHIATRY AND INDIGENOUS PSYCHOLOGY.
Culture and Personality.
Cultural Concepts of Normalcy and Abnormalcy.
Personality and Self in Indigenous Psychology.
Possession in Clinical and Cross-Cultural Perspectives.
Biocultural Approaches to Indigenous Psychology.
Ethnomedical Theories of Illness.
Cross-Cultural Ethnomedical Syndromes.
Chapter Summary.
SEVEN: MEDICAL- ECOLOGICAL APPROACHES TO HEALTH.
Medical Ecology and Disease.
Evolutionary Adaptations and Health.
Genetic, Individual, and Cultural Adaptations to the Environment.
Epidemiology of Disease.
Racial and Ethnic Categories and Health.
Triune Brain Structures and Functions.
Evolution of the Sickness-and-Healing Responses.
Emotions in Biocultural Perspective.
Chapter Summary.
EIGHT: POLITICAL ECONOMY AND CRITICAL MEDICAL ANTHROPOLOGY.
Political Economy Approaches to Health.
Critical Medical Anthropology.
Social Conditions as Causes of Disease and Health.
Social Networks and Support.
Macrolevel Social Effects on Clinical Health.
Changing Health Through Public Policy and Community Involvement.
Chapter Summary.
NINE: PSYCHOBIOLOGICAL DYNAMICS OF HEALTH.
Cultural Healing.
Religion, Ritual, and Symbolic Healing.
Stress Response.
Placebos and Placebo Effects.
Psychoneuroimmunology.
Metaphoric Processes in Symbolic Healing.
Chapter Summary.
TEN: THE SHAMANIC PARADIGM OF ETHNOMEDICINE.
What Is Shamanism?
The Integrative Mode of Consciousness.
Neurognostic Structures.
Bases for Shamanistic Therapies.
Shamanic Roots in Contemporary Religious Experiences and Healing.
Chapter Summary.
GLOSSARY.
REFERENCES.
NAME INDEX.
SUBJECT INDEX.