Culture and Pedagogy: International Comparisons in Primary Education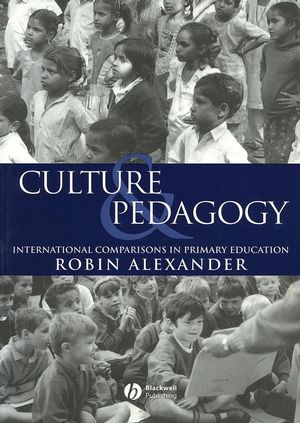 Culture and Pedagogy: International Comparisons in Primary Education
ISBN: 978-0-631-22051-0 February 2001 Wiley-Blackwell 664 Pages
Download Product Flyer
Download Product Flyer
Download Product Flyer is to download PDF in new tab. This is a dummy description. Download Product Flyer is to download PDF in new tab. This is a dummy description. Download Product Flyer is to download PDF in new tab. This is a dummy description. Download Product Flyer is to download PDF in new tab. This is a dummy description.
Description
Culture and Pedagogy
compares primary and secondary elementary schooling in England, France, India, Russia, and the United States, addressing important questions about primary education in the 21st century.
It reveals how teaching, learning, and pedagogic discourse are shaped not just by the decisions of the teacher but also by school values and organization, by local pressures, national policy, and the balance of political control, by the tensions and ambiguities of the democratic ideal, and by culture and history.

Winner of the American Educational Research Association Outstanding Book Award and the Society for Educational Studies Best Book Award.
Table of contents
Liset of Plates.
List of Figures.
List of Tables.
Acknowledgements.
Note.
Introduction.
Part I: Settings:.
1. The Comparative Context.
Part II: Systems, Policies and Histories:.
2. Primary Education in France.
3. Primary Education in Russia.
4. Primary Education in India.
5. Primary Education in the United States of America.
6. Primary Education in England.
7. Primary Education and the State.
Part III: Schools:.
8. Buildings and People.
9. The Idea of a School.
10. Beyond the Gates.
Part IV: Classrooms:.
11. Comparing Teaching.
12. Lesson Structure and Form.
13. Organisation, Task and Activity.
14. Judgement, Routine, Rule and Ritual.
15. Interaction, Time and Pace.
16. Learning Discourse.
Part V: Reflections:.
17. Culture and Pedagogy.
Notes.
Bibliography.
Index.
Reviews
'A magnificent book...A fresh charter for comparative studies in education...Rich analyses of classroom discourse illustrate the subtle ways culture and discourse come together as pedagogy...Nobody interested in the meaning of education in different cultures can ignore this book.'
Professor Jerome Bruner, NYU
'This eagerly awaited study of pre-adolescent schooling will surface quickly as a distinguished, ambitious, comparative analysis of core classroom and instructional issues. There exist few genuinely comparative educational studies, because such work is so challenging and expensive. It is rare for a scholar to take Professor Alexander's posture towards international work and pursue so successfully a set of common questions in pressing for comparable understandings in a diverse group of nations.' Michael W Sedlak, Michigan State University

'This book is unique in offering thick descriptions of education in five countries combined with a sophisticated analytical framework. The uniqueness and boldness of this project thus lies not only in the fact that the author is dealing with five very different education systems, but that he aspires to use these five cases to generate some basic laws or principles of pedagogy which transcend culture and at the same time are intricately tied up with culture.' Joseph Tobin, University of Hawaii

'Robin Alexander's vast and wonderful book ... should instantly become the property of every primary school in the land. Every page of this strikingly well-written, pungently critical and generously humane study testifies to the author's stamina as well as to his intelligence. A work certain to become canonical in many fields'.
Book of the Week citation in the TES

'This is an unusually stimulating, well-argued and comprehensive book, and it deserves a very wide readership. It goes far beyond the realm of interest of comparative education, and in fact uses the discipline of comparative studies to express a detailed, cogent and striking critique of the theory and practice of primary education in England, while painting a convincing and knowledgeable picture of primary schools in Michigan, India, France and Russia. Schools in all five of these parts of the world illuminate and are illuminated by each other. The research on which the study is based is truly massive: substantial videotaping of lessons and exhaustive and perceptive analysis of what went on, interviews with practitioners and educationalists, study of a bibliography of about a thousand items. Most striking of all, the presiding intelligence of Professor Alexander provides a strong, but immensely complex attitude, a standpoint from which the data are analysed, and a series of authoritative conclusions which merit very close consideration.

'This is a gloriously opinionated book. It subjects the whole world of education theory, ideology and practice to a withering analysis. No reader comes out without having his cherished ideas questioned, or even, perhaps, mocked. For this reason, the book would be immensely useful to any thoughtful teacher and any trainee-teacher - and not only in the primary field, either. Alexander's devastating remarks about certain writers and activists make enjoyable reading.'
J.Y.Muckle, University of Nottingham, Education in Russia, the Independent States and Eastern Europe, Vol. 19, No. 1, Spring 2001.

'This innovative, important book is on the cutting edge of comparative education research. Highly recommended for the intelligent general reader as well as advanced students and professionals.' Choice, September 2001, Vol 39.

'The book is beautifully written...a fascinating read.' Colin Richards, St. Martin's College, Journal of Education for Teaching, Vol. 27, 2001

"Robin Alexander's aspirations for this long book are monumental [...] his work contributes to our better understanding of the nature of teaching and learning, and it should be welcomed in that regard." Marlaine Lockheed, Manager, Evaluation Group, World Bank Institute, Comparative Education Review, May 2002

"an extraordinarily ambitious book...Culture and Pedagogy would be an excellent comprehensive text for a variety of Comparative Education and Anthropology and Education Classes (particularly methods classes and classes focusing on globalization). the multi-methodological approach and the emergent themes informing each chapter expand the possible scope and breadth for future studies in comparative education." Thuy Daojensen and Karen Anijar, Arizona State University, Anthropology and Education Quarterly, Vol. 34, June 2003

"The book offers a good example of how data can be collected and analyzed simultaneously on multiple levels to paint a rich and nuanced picture of how schools work and how the daily work of teachers and pupils links to national policy. It encourages us to realize that, although there may not be 800 distinctive words for school in each culture, there are in fact different grammars of schooling that reflect cultural differences and that strive to deal from those different foundations with essential issues of control, identity, and induction into a larger culture of speakers, readers, and writers." Stephen T. Kerr, University of Washington, APA Review of Books, December 2003
Features


Compares educational policies and practices in five countries.

Probes the relationship between public education and national culture.

Draws on new data to illuminate the processes of teaching and learning.

Addresses important questions about primary education in the 21st century.