Culture of Epithelial Cells, 2nd Edition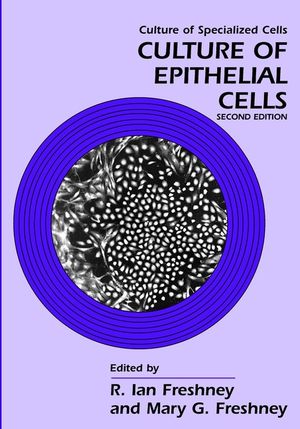 Culture of Epithelial Cells, 2nd Edition
ISBN: 978-0-471-45912-5
Apr 2004
461 pages
Description
"...a wonderful compendium of current in vitro approaches that will be a useful resource to those just starting to work with an epithelial cell system as well as those that have been working with them for years and years."
—Pharmaceutical Research

This completely revised and expanded new edition provides detailed descriptions of fundamental and practical aspects relating to the in vitro cultivation of disparate types of epithelia. In recent years, the use of epithelial cell culture in cell biology and tissue engineering has increased dramatically. This revision reflects those advances by including new chapters on the culture of animal and human hepatocytes, kidney epithelium, and bladder epithelium. Each chapter provides an introductory review of the principles and advantages of the particular method, followed by detailed protocols, practical tips, alternate methods, and a useful list of materials and suppliers.
Contributors vii
Preface
R. Ian Freshney and Mary G. Freshney ix
Preface to Second Edition
R. Ian Freshney xi
List of Abbreviations xiii
Chapter 1. Introduction
R. Ian Freshney 1
Chapter 2. Cell Interaction and Epithelial Differentiation
Nicole Maas-Szabowski, Hans-Jurgen Stark, and Norbert E. Fusenig 31
Chapter 3. The Epidermis
E. Kenneth Parkinson and W. Andrew Yeudall 65
Chapter 4. Culture of Human Mammary Epithelial Cells
Martha R. Stampfer, Paul Yaswen, and Joyce Taylor-Papadimitriou 95
Chapter 5. Culture of Human Cervical Epithelial Cells
Margaret A. Stanley 137
Chapter 6. Human Prostatic Epithelial Cells
Donna M. Peehl 171
Chapter 7. Human Oral Epithelium
Roland G. Grafstrom 195
Chapter 8. Normal Human Bronchial Epithelial Cell Culture
John Wise and John F. Lechner 257
Chapter 9. Isolation and Culture of Pulmonary Alveolar EpithelialType II Cells
Leland G. Dobbs and Robert F. Gonzalez 277
Chapter 10. Isolation and Culture of Intestinal Epithelial Cells
Catherine Booth and Julie A. O'Shea 303
Chapter 11. Isolation and Culture of Animal and Human Hepatocytes
Christiane Guguen-Guillouzo 337
Chapter 12. Culture of Human Urothelium
Jennifer Southgate, John R.W. Masters, and Ludwik K.Trejdosiewicz 381
Chapter 13. Other Epithelial Cells
R. Ian Freshney 401
List of Suppliers 437
Index 443
"...a wonderful compendium of current
in vitro
approaches that will be a useful resource to those just starting to work with an epithelial cell system as well as those that have been working with them for years and years." (
Pharmaceutical Research
, Vol. 19, No. 10, October 2002)
?a wonderful compendium of current in vitro approaches that will be a useful resource to those just starting to work with an epithelial cell system as well as those that have been working with them for years and years.? (Pharmaceutical Research , Vol. 19, No. 10, October 2002)