Culture of Hematopoietic Cells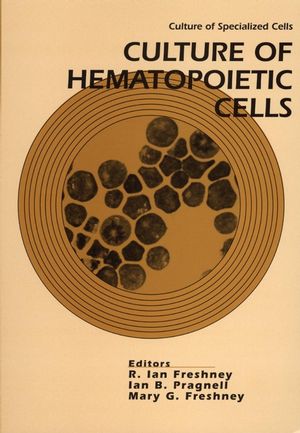 Culture of Hematopoietic Cells
ISBN: 978-0-471-58830-6 August 1994 296 Pages
Description
Provides scientists with step-by-step methods for easy use in the lab when cultivating and experimenting with blood cells. Covering a range of human and mouse cell types, this laboratory manual includes contributions from more than twenty leading investigators who offer their practical expertise on a wide range of topics. Features detailed instructions for reagent preparation and information on the latest specialized equipment and supplies.
Table of contents
Partial table of contents:

PRIMITIVE PROGENITOR ASSAYS.

Cobblestone Area Forming Cell (CAFC) Assay (R. Ploemacher).

Assay for Murine Blast Cell Colonies (N. Katayama & M.Ogawa).

Serum-Deprived Cultures of Primary Hematopoietic Cells (G.Migliaccio & A. Migliaccio).

COLONY-FORMING ASSAYS FOR MALIGNANT CELLS.

Colony-Forming Assays for Acute Myeloid Leukemia (S. Rogers, etal.).

LONG-TERM ASSAYS AND IMMORTALIZATION.

Long-Term Culture of Human Myeloid Cells (H. Sutherland & C.Eaves).

Immortalization of Hematopoietic Cells (C. MacDonald).

PURIFICATION OF PROGENITOR CELLS.

Purification of Murine Granulocyte-Macrophage Progenitor Cells(CFU-GM) Using Counterflow Centrifugal Elutriation (S. Cooper &H. Broxmeyer).

OTHER SYSTEMS AND ASSAYS.

Culture of Human and Mouse Bone Marrow Stromal Cells (S. Perkins& R. Fleischman).

List of Suppliers.

Index.