Culture of Immortalized Cells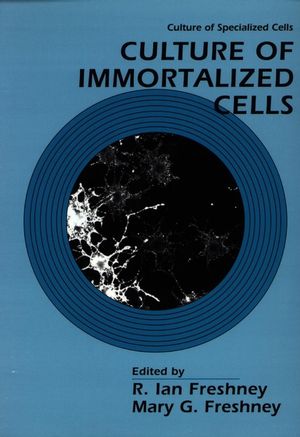 Culture of Immortalized Cells
ISBN: 978-0-471-12134-3 April 1996 416 Pages
Description
Culture of Specialized Cells

Culture of Immortalized Cells

Edited by R. Ian Freshney and Mary G. Freshney

The ability to develop immortalized cells in vitro is a powerfultool for the biological investigator. Most cells can only bereproduced unchanged for a limited number of cell generationsbefore the initial cell lines die. The immortalization of cellsestablishes continuous cell lines, playing an important role in thestudy of the biology of cell growth, differentiation, andsenescence. It also increases our understanding of aberrations inproliferative and positional control in malignant cells.

Culture of Immortalized Cells provides the most up-to-date in vitromethods and safety procedures for the immortalization of primarycultures of various cell types. Coedited by one of the leadingfigures in the field, R. Ian Freshney, author of Culture of AnimalCells, Third Edition, Culture of Immortalized Cells is the latestvolume in the critically acclaimed Culture of Specialized CellsSeries. Preceding volumes in the series include Culture ofEpithelial Cells and Culture of Hematopoietic Cells.

In this comprehensive handbook, leading experts offer the mostcurrent methods for the immortalization of cells, as well asspecific guidelines for the immortalization of kidney, and thyroidepithelia, hepatocytes, fibroblasts, chondrocytes, lymphocytes,astrocytes, and human umbilical vein endothelium. Each method isaccompanied by:
* Step-by-step protocols
* Detailed instructions for reagent preparation
* Current information on the latest specialized equipment andsupplies

This concise bench-top manual is essential for any laboratoryinvolved in establishing continuous cell lines from primarycultures. Investigators, laboratory technical staff, and studentsin cell biology, immunology, hematology, cancer biology,toxicology, and molecular biology, will find this contemporaryguide indispensable to their research.
Table of contents
Partial table of contents:

Human Keratinocyte Immortalization: Genetic Basis and Role inSquamous Cell Carcinoma Development (E. Parkinson).

Safety Procedures (J. Caputo).

Mapping Human Senescence Genes Using Interspecific MonochromosomeTransfer (R. Newbold & A. Cuthbert).

Development of Immortal Human Fibroblast Cell Lines (L. Mayne, etal.).

Immortalization of Human Bronchial Epithelial Cells (R. De Silva,et al.).

Thyroid Epithelium (D. Wynford-Thomas).

B-Lymphocytes (B. Bolton & N. Spurr).

Megakaryocyte Cell Lines from Transgenic Mice (K. Ravid).

List of Suppliers.

Index.