Cultures of Mediatization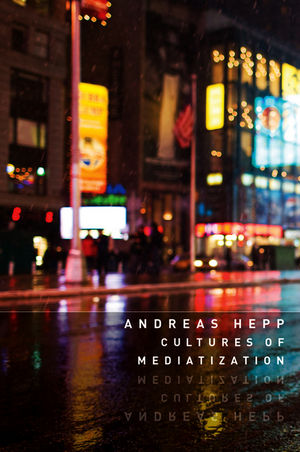 Cultures of Mediatization
ISBN: 978-0-745-66349-4
Apr 2013, Polity
180 pages
Description
What does it mean that we can be reached on our mobile phones wherever we are and at all times? What are the cultural consequences if we are informed about 'everything and anything important' via television? How are our political, religious and ethnic belongings impacted through being increasingly connected by digital media? And what is the significance of all this for our everyday lives?
Drawing on Hepp's fifteen-year research expertise on media change, this book deals with questions like these in a refreshingly straightforward and readable way. 'Cultures of mediatization' are described as cultures whose main resources are mediated by technical media. Therefore, everyday life in cultures of mediatization is 'moulded' by the media.
To understand this challenging media change it is inappropriate to focus on any one single medium like television, the press, mobile phones, the Internet or other forms of digital media. One has to capture the 'mediatization' of culture in its entirety. Cultures of Mediatization outlines how this can be done critically. In so doing, it offers a new way of thinking about our present-day media-saturated world.
Detailed Table of Contents
Acknowledgements
1. Introduction
2. What Media Culture Is (Not)
3. The Mediatization of Culture
4. Cultures of Mediatization and Mediatized Worlds
5. Communatization within Cultures of Mediatization
6. Studying Cultures of Mediatization
7. Prospect
References
Index
'The great virtue of Cultures of Mediatization is that the book proposes an entente cordiale between media scholarship and social theory. The idea of mediatization as a historical process—akin to other large-scale changes that have long preoccupied sociologists—is genuinely exciting. It is, in my view, the beachhead upon which a genuine dialogue could be launched.'
International Journal of Communication


'This book is a contribution of major importance. It has a well-focused, original and stimulating argument which I think will quickly be recognized as taking current debates about mediatization considerably further forward.'
Nick Couldry, Goldsmiths, University of London


'For those unfamiliar with the concept of mediatization, Andreas Hepp opens up some stimulating new directions for media studies. For those already working with the concept, Hepp's integrative theoretical analysis plus refreshing questioning will prove equally stimulating.'
Sonia Livingstone, London School of Economics and Political Science
'This book gives an original view on media cultures as cultures of mediatization. This clear and accessible text provides a good overview and introduction to the complex and hot topics on mediatization. It is a must for students, researchers and a general academic public interested in the media and social change.'
Knut Lundby, University of Oslo
An engaging analysis of an emerging, cutting-edge area of media studies.
This accessible text draws is driven by empirical examples and terminology is clearly introduced and explained.
Examines the concept of 'mediatization': the idea that media organizations and technologies now shape all aspects of social life.
The author is a rising star in the field.