Cumulative Trauma Disorders: Prevention, Evaluation, and Treatment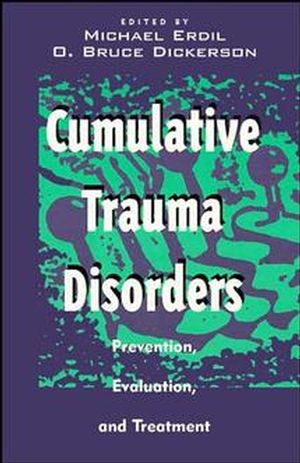 Cumulative Trauma Disorders: Prevention, Evaluation, and Treatment
ISBN: 978-0-471-28472-7
Dec 1996
719 pages
Description
Written by a distinguished group of contributors, this book provides comprehensive information on both CTDs of the upper extremity and low back pain. Using a broad-based approach that is equally useful for physicians, surgeons, physical therapists, occupational safety personnel, engineers, and lawyers, Cumulative Trauma Disorders provides practical guidelines for CTD identification and control, including:
Understanding current legal issues--including the OSHA Ergonomics Rule and the ADA--and their implications for workers and healthcare providers.
Monitoring and managing CTD risk factors in the workplace.
Implementing ergonomic solutions for upper extremity CTDs and low back pain.
Performing impairment and disability evaluations.
Partial table of contents:

The Burden of Cumulative Trauma Disorders (M. Erdil, et al.).

CUMULATIVE TRAUMA DISORDERS OF THE UPPER EXTERMITIES.

Nonacute Musculoskeletal Disorders: Then and Now (M. Cherniack).

Carpal Tunnel Syndrome: Diagnosis and Case Definitions (M. Erdil, et al.).

Conservative Management of Cumulative Trauma Disorders of the Upper Extremity with Physical Therapy (P. Rockar, et al.).

Screening and Medical Surveillance for Cumulative Trauma Disorders (D. Stumpp & P. Sparks).

Video Display Workstations and Cumulative Trauma Disorders (O. Dickerson & M. Erdil).

Cumulative Trauma Disorders: Impairment and Disability Assessment (S. Moon, et al.).

LOW BACK PAIN.

Conservative Management of Low Back Pain with Physical Therapy (R. Bowling, et al.).

Ergonomic Considerations for Manual Material Handling and Low Back Pain (T. Waters & V. Putz-Anderson).

REGULATORY ISSUES.

The Americans with Disabilities Act and Cumulative Trauma Disorders (R. Noonan).

Recent Ergonomic Initiatives (G. Perez & M. Erdil).

Index.