Curing Their Ills: Colonial Power and African Illness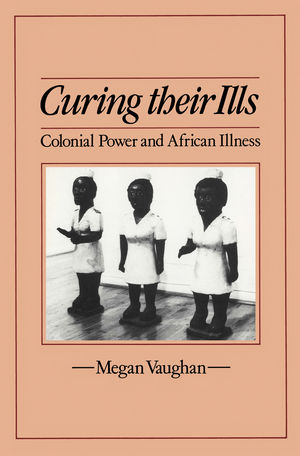 Curing Their Ills: Colonial Power and African Illness
ISBN: 978-0-745-60781-8 April 1992 Polity 220 Pages
Description
Curing their Ills
traces the history of encounters between European medicine and African societies in the nineteenth and twentieth centuries. Vaughan's detailed examination of medical discourse of the period reveals its shifting and fragmented nature, highlights its use in the creation of the colonial subject in Africa, and explores the conflict between its pretensions to scientific neutrality and its political and cultural motivations.
The book includes chapters on the history of psychiatry in Africa, on the treatment of venereal diseases, on the memoirs of European 'Jungle Doctors', and on mission medicine. In exploring the representations of disease as well as medical practice, Curing their Ills makes a fascinating and original contribution to both medical history and the social history of Africa.
Table of contents
Preface.
1. Introduction.
2. Rats' Tails and Trypanosomes.
3. The Great Dispensary in the Sky.
4. Without the Camp.
5. The Madman and the Medicine Men.
6. Syphilis and Sexuality.
7. Hippo Happenings.
8. 'Seeing is Believing'.
9. Conclusion.
Bibliography.
Reviews
'The book gives an excellent account of the biomedical 'discourse' in Africa and on how this discourse changed over time... Vaughan explores in an interesting way the associations that were made in the colonial literature between notions of illness, gender and sexuality, madness, nature and the construction of the African.'
Times Higher Education Supplement
'An important and imaginative study of value to students of society and medicine in general' Journal of Imperial and Commonwealth History
'This is an original and penetrating book written in a most attractive style and showing how much vivid material survives in neglected papers of colonial doctors.' History Today
'Curing Their Ills is beautifully written; the complex argument is made disarmingly simple and clear. It must surely join the growing list of outstanding contemporary reinterpretations of imperial medicine and society.' Journal of Historical Geography

"... Challenging and original. The overall thesis is compelling... ... The great value of Vaughan's study is exactly its breadth and the way she explores a variety of diseases and different kinds of biomedical discourse. ... The ambition and novelty of this study must be welcomed, not least for the ways it shows how the history of colonial or tropical medicine can be linked to the wider social history of colonialism." Social History of Medicine
"... This is a rich and rewarding book that should have considerable appeal for scholars concerned with the interplay between medicine, culture and colonialism." Journal of Southern African Studies
Features
* Crossing many conceptual and disciplinary boundaries, this book will cause much exciting controversy.
* The author draws upon a wide range of fascinating sources.
* The text is enhanced with the use of photographs.