Current Protocols in Human Genetics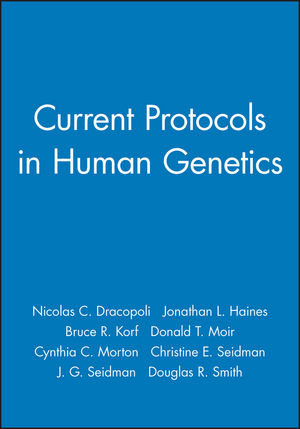 Current Protocols in Human Genetics
ISBN: 978-0-471-03420-9 April 1994
Description
Current Protocols in Human Genetics, a two-volume looseleaf manual, is the one publication needed for comprehensive coverage of the latest methods in human genetics, including collecting family histories and pedigrees, linkage analysis, molecular genetics, physical mapping and genomics, clinical diagnostic procedures, cytogenetics, gene therapy, and forensics. The editors' and authors' expert commentaries assist you in conducting sophisticated experimental projects for the analysis of human and other higher eukaryotic genomes. Carefully edited, step-by-step protocols replete with material lists, background information, and safety and troubleshooting tips ensure that you can duplicate the experimental results in your own laboratory. Quarterly updates, which are filed into the looseleaf, keep the set current with the latest developments in genome methods by providing new protocols and updating existing ones. The initial purchase includes one year of updates and then subscribers may renew their annual subscriptions. Current Protocols publishes a family of laboratory manuals for bioscientists, including Molecular Biology, Immunology, Protein Science, Cytometry, Cell Biology, Neuroscience, Pharmacology, and Toxicology.
Table of contents
Genetic Mapping.
Genotyping.
Somatic Cell Hybrids.
Cytogenetics.
Large-Insert Cloning and Analysis.
Identifying Candidate Genes in Genomic DNA.
Searching Candidate Genes for Mutations.
Clinical Cytogenetics.
Clinical Molecular Genetics.
Cancer Genetics.
Bioinformatics.
Vectors for Gene Therapy.
Delivery Systems for Gene Therapy.
Forensic Genetics